S. Bassett French Biographical Sketch
From Wythepedia: The George Wythe Encyclopedia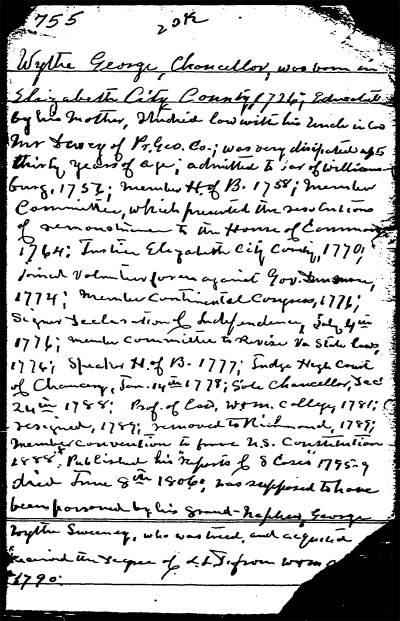 Samuel Bassett French (1820 – 1898) was a lawyer, judge, Confederate officer, editor, and public servant. Born in Norfolk, Virginia, French later lived in Manchester, Chesterfield County, and in Richmond. Between 1890 and 1897, French compiled information on over 14,000 men in preparation for a planned biographical dictionary to be called Annals of Prominent Virginians of the XIX Century. French's handwritten notes now reside at the Library of Virginia, and includes this brief sketch of George Wythe, Chancellor.
Much of French's information was obtained first-hand or from his immediate family[1], but he most likely used the book Virginia Genealogies (1891) as his source for Wythe.[2] French mistakenly repeats that Wythe did not practice law until 1756, and that he was "very dissipated" until the age of thirty: a myth perpetuated by many 19th-century biographies of Wythe.[3]
Document text, c. 1890s
Wythe George, Chancellor, was born in Elizabeth City County, 1726; Educated by his mother, studied law with his uncle in law Mr Dewey of Pr. Geo. Co.; was very dissipated up to thirty years of age; admitted to bar of Williamsburg, 1756; Member H. of B. 1758; member Committee which presented the resolutions of remonstrance to the House of Commons, 1764; Justice Elizabeth City County, 1770; joined volunteer forces against Gov. Dunmore, 1774; Member Continetnal Congress, 1776; Signer Declaration of Independence, July 4th 1776; Member Committee to revise Va State laws, 1776; Speaker H. of B. 1777; Judge High Court of Chancery, Jan. 14th 1778; Sole Chancellor, Dec. 24th 1788; Prof. of law, W&M College, 1781; resigned, 1789; removed to Richmond, 1789; Member Convention to frame U.S. Constitution, 1888 [sic]; Published his "Reports of 8 Cases" 1795-9.[4] died June 8th 1806; was supposed to have been poisoned by his grand-nephew, George Wythe Sweeney, was was tried, and acquited [sic]. Received the degree of LLD from W&M [College], 1790.
See also
References
External links