Rowlett's Tables of Discount, or Interest, on Every Dollar
From Wythepedia: The George Wythe Encyclopedia
by John Rowlett
Rowlett's Tables of Discount

Title page from Rowlett's Tables of Discount, George Wythe Collection, Wolf Law Library, College of William & Mary.

Author
John Rowlett
Editor
{{{editor}}}
Translator
{{{trans}}}
Published
Philadelphia: Printed for the proprietor, by Hugh Maxwell
Date
1802
Edition
{{{edition}}}
Language
English
Volumes
{{{set}}} volume set
Pages
200
Desc.
4to (27 cm.)
Location
Shelf C-4
 
[[Shelf {{{shelf2}}}]]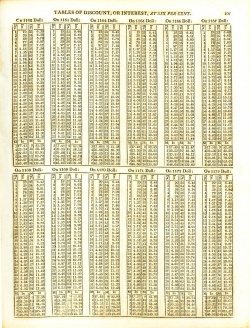 John Rowlett's
Tables of Discount
allows individuals to determine the amount of interest expense they will pay on a particular amount of money or, likewise, the amount of interest income they will earn on a particular amount of money. These tables provide the means for people who may lack formal training in finance to quickly and easily calculate the amount of interest that will accumulate on a particular amount of money.
[1]
Evidence for Inclusion in Wythe's Library
Listed in the Jefferson Inventory of Wythe's Library as "Rowlett's tables. 4to." This was one of the books kept by Thomas Jefferson. He later sold a copy to the Library of Congress in 1815, but it no longer exists to verify Wythe's prior ownership.[2] Both the Brown Bibliography[3] and George Wythe's Library[4] on LibraryThing include the first (1802) edition. The Wolf Law Library purchased a copy of the same edition.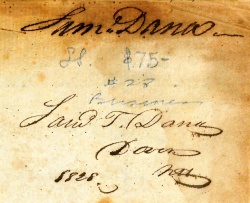 Description of the Wolf Law Library's copy
Bound in contemporary, or near contemporary, cal. Rebacked with original red morocco, gilt-lettered label and gilt rules. Front free endpaper includes the signatures of "Saml. Dana" and "Saml. T. Dana, Dover, Mss, 1828." The first signature probably belongs to United States Representative Samuel Dana.
Images of the library's copy of this book are available on Flickr. View the record for this book in William & Mary's online catalog.
See also
References