The Reports of that Reverend and Learned Judge, Sir Richard Hutton ... Sometimes One of the Judges of the Common Pleas, Containing Many Choice Cases, Judgements, and Resolutions, in Points of Law, in the Severall Raignes of King James and King Charles
From Wythepedia: The George Wythe Encyclopedia
by Sir Richard Hutton
Hutton's Reports

Title page from Book Title, George Wythe Collection, Wolf Law Library, College of William & Mary.

Author
Sir Richard Hutton
Editor
{{{editor}}}
Translator
{{{trans}}}
Published
London: Printed by T.R. for H. Twyford and T. Dring
Date
1656
Edition
First
Language
English
Volumes
{{{set}}} volume set
Pages
6, 136, [7]
Desc.
Folio (28 cm.)
Location
[[Shelf {{{shelf}}}]]
 
[[Shelf {{{shelf2}}}]]
Sir Richard Hutton (bap. 1561, d. 1639) originally studied for the church, but eventually turned to law and entered Gray's Inn in 1580. He joined the bar in 1586, became sergeant in 1603, and puisne justice of Common Pleas in 1671.[1] His Reports represent only a selection of cases from his notebook.[2] While frequently cited, the volume "might seem to belong to the class of literary productions which do not attain even notoriety enough to be abused."[3] Nevertheless, Hutton himself enjoyed an impeccable reputation. His fellow judge, Sir George Croke described him as "a grave, learned, pious, and prudent judge"[4] and even Charles I referred to him as "the honest judge."[5]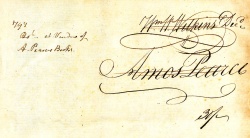 Evidence for Inclusion in Wythe's Library
Both Dean's Memo[6] and the Brown Bibliography[7] suggest Wythe owned the first edition of this title based on notes in John Marshall's commonplace book.[8] The Wolf Law Library purchased the 1st (1656) edition for the George Wythe Collection.
Description of the Wolf Law Library's copy
Bound in modern full calf, boards ruled with gilt. Five bands on spine with gilt rules and embellishments. Original(?) red morocco label with gilt lettering. Front flyleaf inscribed "1798, bot. at Vendors of A. Pearce's Books" with the signatures of "Wm. Th. Wilkins, Decd. and "Amos Pearce." Bound with three other titles: John Latch's Plusieurs Tres-Bons Cases: Come ils Estoyent Adjudgees es Trois Premiers Ans [1624-1627] du Raign du feu Roy Charles le Premier en la Court de Bank le Roy, non Encore Publiees per Aucun Autre (London: Printed by T.R. for H. Twyford, T. Dring, and J. Place ..., 1661; and two works by Sir John Davies, Les Reports des Cases & Matters en Ley, Resolves & Adjudges en les Courts del Roy en Ireland (London: Printed by E. Flesher, J. Streater, and H. Twyford, assigns of Richard Atkyns and Edward Atkyns, esquires, 1674) and Une Exact Table al Report de Sir John Davys Chivaler, Atturney General del Roy en Ireland (London: Printed for James Collins, and Charles Harper, 1677).

View the record for this book in William & Mary's online catalog.

References