Reports of that Grave and Learned Judge, Sir John Bridgman
From Wythepedia: The George Wythe Encyclopedia
by Sir John Bridgman
Bridgman's Reports

Title page from Reports of that Grave and Learned Judge, Sir John Bridgman, George Wythe Collection, Wolf Law Library, College of William & Mary.

Author
Sir John Bridgman
Editor
{{{editor}}}
Translator
{{{trans}}}
Published
London: Printed by Tho. Roycroft for J. Twyford, Tho. Dring, and Jo. Place
Date
1659
Edition
First
Language
English
Volumes
{{{set}}} volume set
Pages
[6], 142, [6]
Desc.
Folio (29 cm.)
Location
Shelf E-4
 
[[Shelf {{{shelf2}}}]]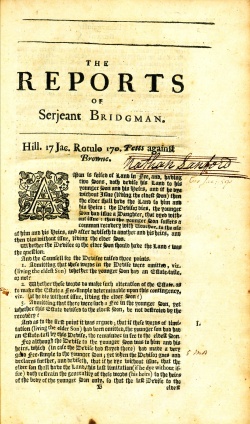 Originally composed in French, these reports were translated into English and published after Bridgman's death. "The reporter was a Sergeant-At-Law, and a Chief Justice of Chester, 'the memory of whose great learning and profoundness in the knowledge of the laws of England still remain.' The cases are pretty fully reported, 'but they embrace so short a period that they are not often referred to, nor do we understand that they are highly esteemed.'"
[1]
Bridgman gives concise statements of the judgments in each case, an expansive description of his own arguments, but "the arguments of counsel other than himself are hardly given at all."
[2]
Evidence for Inclusion in Wythe's Library
The Brown Bibliography[3] suggests Wythe owned this title based on quotations in the manuscript version of John Marshall's law notes. Brown lists the 1659 edition based on the copy Thomas Jefferson sold to the Library of Congress in 1815.[4] The Wolf Law Library moved a copy of the first edition from another rare book collection to the George Wythe Collection.
Description of the Wolf Law Library's copy
Rebound around 1980. Previous owner's signaure, "Nathan Sanford", on front flyleaf, title page, and first page of text. Purchased through the generosity of Daniel W. Baran and Lena Stratton Baran, Class of 1936.
Images of the library's copy of this book are available on Flickr. View the record for this book in William & Mary's online catalog.
See also
References