The Reports of Sir Henry Yelverton ... of Divers Special Cases in the Court of King's Bench, as Well in the Latter Rnd of the Reign of Q. Elizabeth, as in the First Ten Years of K. James
From Wythepedia: The George Wythe Encyclopedia
by Sir Henry Yelverton
Yelverton's Reports

Title page from The Reports of Sir Henry Yelverton, George Wythe Collection, Wolf Law Library, College of William & Mary.

Author
Sir Henry Yelverton
Editor
{{{editor}}}
Translator
{{{trans}}}
Published
London, In the Savoy: Printed by E. and R. Nutt, and R. Gosling (assigns of E. Sayer) for W. Feales
Date
1735
Edition
Third, corrected
Language
Greek
Volumes
{{{set}}} volume set
Pages
7, 228, [23]
Desc.
Folio (32 cm.)
Location
Shelf C-5
 
[[Shelf {{{shelf2}}}]]
Sir Henry Yelverton (1566-1630), judge and politician, was the eldest son of Sir Christopher Yelverton, the noted judge and speaker of the House of Commons.[1] According to one scholar, "genius, education, and public honor appear, indeed, to have been heirlooms in his family."[2] Yelverton's quick rise to prominence may be attributed to the public favor he received on account of his father's good name.[3] In 1581, he matriculated from Christ's College, Cambridge and graduated from Peterhouse in 1584.[4] Yelverton's puritan leanings were informed by his time at Cambridge.[5] After gaining admittance to Gray's Inn in 1580, he was called to bar in 1593.[6]

Yelverton's political activities began in 1597 when he was elected MP for Northhampton and sat on several committees.[7] Although not returned in 1601, he was in 1604 for the first parliament of James I.[8] In Parliament, he became known as an "independent man who spoke his mind."[9] It was Yelverton's outspokenness about the rights of parliament which tended to get him in trouble with the king, even though he supported the royal prerogative.[10] Despite the troublesome independence of his views, Yelverton regained the trust of King James I by gaining audience and explaining his views.[11] Ultimately this reconciliation enabled him to serve the King in various capacities.[12] In 1613, Yelverton was made solicitor-general and knighted, and he became attorney general after the king appointed Sir Francis Bacon Lord Keeper.[13]

Despite his advancement to these positions of power, Yelverton's puritan independence caused him trouble.[14] The Duke of Buckingham, with whom Yelverton had an adversarial relationship, accused Yelverton of abusing his position as commissioner of patents.[15] Their animosity came to a head when Yelverton accused Buckingham of standing "still att the Kinges elbowe ready to hew me down."[16] For this, Yelverton was found guilty of slandering Buckingham, in addition to the underlying crime of impugning the king through his actions as commissioner of patents.[17] In 1621, Yelverton returned to the King's Bench, Chancery, Star Chamber, and Assize circuits.[18] In 1625 he was made serjeant-at-law and became judge of the Court of Common Pleas, five years before he died.[19]

Scholars hold Yelverton's Reports in high regard. Although they were never intended for publication, they are considered "among the best of the older books both for value of decision and essential accuracy of report." [20]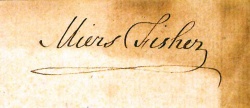 Evidence for Inclusion in Wythe's Library
Both Dean's Memo[21] and the Brown Bibliography[22] suggest Wythe owned the third (1735) edition of Yelverton's Reports based on notes in John Marshall's commonplace book.[23] The Wolf Law Library purchased a copy of the same edition.
Description of the Wolf Law Library's copy
Bound in recent period-style quarter calf over marbled boards with renewed endpapers. Includes early owner signature of "Miers Fischer" the front flyleaf and title page. Purchased from The Lawbook Exchange, Ltd.
View the record for this book in William & Mary's online catalog.
See also
References
External Links
Read this book in Google Books.