The Reports of Sir Bartholomew Shower, Knt. of Cases Adjudg'd in the Court of King's Bench, in the Reign of His Late Majesty King William III, With Several Learned Arguments
From Wythepedia: The George Wythe Encyclopedia
by Sir Bartholomew Shower
Shower's King's Bench Reports

Title page from The Reports of Sir Bartholomew Shower, volume one, George Wythe Collection, Wolf Law Library, College of William & Mary.

Author
Sir Bartholomew Shower
Editor
{{{editor}}}
Translator
{{{trans}}}
Published
London: Printed by the assigns of Richard and Edward Atkins, Esqs; for Danial Borwne and J. Walthoe
Date
1708
Edition
First
Language
English
Volumes
2 volume set
Pages
{{{pages}}}
Desc.
Folio (32 cm.)
Location
Shelf F-5
 
[[Shelf {{{shelf2}}}]]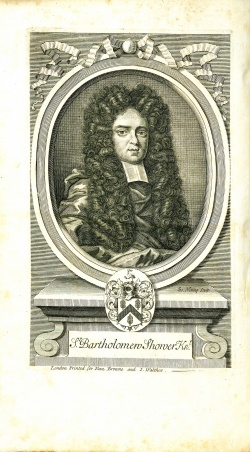 Sir
Bartholomew Shower
(1658–1701) was admitted to the
Middle Temple
in 1676 and called to the bar in 1680. In 1688, he was named king's counsel, then later the same year appointed to the bench.
[1]
In 1698, Shower was chosen as one of Exeter's members for Parliament and became a dominant Tory voice in the Commons. Shower's King's Bench reports derive from his manuscript notes but were published posthumously. "It is probable that these Cases were printed from the 'foul copy' of the Reporter" and were not the finished product Shower meant to publish.
[2]
As a result, the first two editions of the reports have been widely criticized.
[3]
A third edition, published in 1836 and based on a manuscript in the Lansdowne collection, has a more favorable reputation and appears to represent the collection Shower originally intended to print.
[4]
Evidence for Inclusion in Wythe's Library
There is no doubt that George Wythe owned this title—a copy of the first edition at the Library of Congress includes Wythe's armorial bookplate. We also know that Thomas Jefferson listed the title as "Shower's [rep] 2.v. fol." in his inventory of Wythe's Library, noting that he kept the volume himself. He later sold it to the Library of Congress. Not surprisingly, all four of the Wythe Collection sources (Goodwin's pamphlet[5], Dean's Memo[6], Brown's Bibliography[7] and George Wythe's Library[8] on LibraryThing) list the first edition of Shower's King's Bench Reports. The Wolf Law Library moved a copy of the first edition from another rare book collection to the George Wythe Collection.
Description of the Wolf Law Library's copy
Bound in contemporary blind calf, rebacked with red spine labels. Each volume includes a previous owner's signature on the title page. Marginal notes of previous owner in both volumes Purchased through the generosity of Daniel W. Baran and Lena Stratton Baran, Class of 1936.
Images of the library's copy of this book are available on Flickr. View the record for this book in William & Mary's online catalog.
Full text
See also
References