Reports of Cases Taken and Adjudged in the Court of Chancery, in the Reign of King Charles I., Charles II., James II., William III. and Queen Anne: Being Special Cases and Most of Them Decreed with the Assistance of the Judges, and All of Them Referring to the Register Books Wherein are Settled Several Points of Equity, Law and Practice
From Wythepedia: The George Wythe Encyclopedia
Court of Chancery, Great Britain
Reports of Cases Taken and Adjudged in the Court of Chancery

Title page from Reports of Cases Taken and Adjudged in the Court of Chancery, George Wythe Collection, Wolf Law Library, College of William & Mary.

Author
Court of Chancery, Great Britain
Editor
{{{editor}}}
Translator
{{{trans}}}
Published
[London] In the Savoy: Printed by E. and R. Nutt, for R. Gosling for J. Walthoe
Date
1736
Edition
Third
Language
English
Volumes
3 volumes in 1 volume set
Pages
{{{pages}}}
Desc.
Folio (32 cm.)
Location
Shelf G-5
 
[[Shelf {{{shelf2}}}]]
Referred to as Chancery Reports, all three parts were published anonymously from 1693 to 1716.[1] The year 1736 marked the first time that all three parts were published together.[2] "The different Parts of this book possess unequal merit. The first two—which appear to be mere extracts from the Register's books, and as such might have been made by some person who had never been in court at all—are characterized by Chancellor Kent 'as loose and meagre, without much weight or authority;' while of the 3d Part he says, 'that some cases in it, decided by Lord Cowper, are uncommonly well reported.'"[3]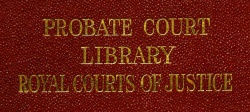 Evidence for Inclusion in Wythe's Library
Listed in the Jefferson Inventory of Wythe's Library as "3d. Chancery rept. 8vo." and given by Thomas Jefferson to Dabney Carr. George Wythe's Library[4] on LibraryThing includes only the 1st edition (1716) of part three, The Third Part of Reports of Cases, Taken and Adjudged in the Court of Chancery, in the Reigns of King Charles II. King William, and Queen Anne. Brown's Bibliography[5] suggests Wythe also owned the 2nd edition (1715) of parts one and two, in addition to the 1st edition (1716) of part three, based in part on the volumes sold by Thomas Jefferson to the Library of Congress.[6] The original source for the George Wythe Collection, Barbara Dean's Memo[7] notes the combined 3rd edition (1736) of all three parts as derived from notations in John Marshall's commonplace book.[8] Following Dean's suggestion, the Wolf Law Library purchased the 3rd edition, a folio rather than an octavo as indicated by Jefferson. The purchase was made before the publication of Jefferson's Inventory in January, 2010.
Description of the Wolf Law Library's copy
Bound in later three-quarter morocco over pebbled cloth with raised bands and a lettering piece to the spine and renewed endpapers. The title page features multiple stamps from the Probate Court Library and the Court of Probate. A gilt stamp on the cover reads "Probate Court Library, Royal Courts of Justice." Purchased from The Lawbook Exchange, Ltd.
Images of the library's copy of this book are available on Flickr. View the record for this book in William & Mary's online catalog.
See also
References