Reports of Cases Decreed in the High Court of Chancery, During the Time Sir Heneage Finch, afterwards Earl of Nottingham, was Lord Chancellor, in Many of Which Decrees He was Assisted by Some of the Judges of the Common Law
From Wythepedia: The George Wythe Encyclopedia
by Heneage Finch, Earl of Nottingham
Reports of Cases Decreed in the High Court of Chancery

Title page from Reports of Cases Decreed in the High Court of Chancery, George Wythe Collection, Wolf Law Library, College of William & Mary.

Author
Heneage Finch, Earl of Nottingham
Editor
{{{editor}}}
Translator
{{{trans}}}
Published
[London] In the Savoy: Printed for E. and R. Nutt, and R. Gosling (assigns of E. Sayer) for R. Gosling
Date
1725
Edition
First
Language
English
Volumes
{{{set}}} volume set
Pages
1 p. l., iv, [4], 480, [22]
Desc.
Folio (32 cm.)
Location
Shelf G-5
 
[[Shelf {{{shelf2}}}]]
Heneage Finch, first Earl of Nottingham, (1621–1682) was admitted to the Inner Temple in 1638 and called to the bar in 1645.[1] After spending time as solicitor-general and attorney-general, Finch was appointed lord chancellor in 1675. William Nelson compiled and edited Reports of Cases Decreed in the High Court of Chancery, During the Time Sir Heneage Finch from cases decided by Finch from 1673 to 1681. Nelson's compilation has been heavily criticized. One biographer of Nottingham wrote that the reports "are miserably executed, containing a defective narrative of the facts,—hardly any statement of the points made by counsel or the authorities relied on,—and, without the reasons of the Judge, giving only an abstract of the Decree ..."[2] Another wrote "the highest authorities" all "speak of the book disparagingly."[3] The quality of the reports is unfortunate, as Holdsworth has described Lord Nottingham's "analyses of complicated facts are masterly, both for their minuteness, and for the clearness with which the results of the analysis are stated. He can enunciate a principle, and reason from it closely and logically ..."[4] Even Blackstone wrote that Nottingham "was a person of the greatest abilities and most uncorrupted integrity; a thorough master and zealous defender of the laws and constitution of his country; and endued with a pervading genius, that enabled him to discover and pursue the true spirit of justice ..."[5]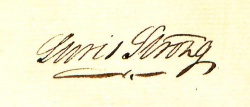 Evidence for Inclusion in Wythe's Library
Listed in the Jefferson Inventory of Wythe's Library as "Reports in Chancery tempore Finch. fol." This was one of the titles kept by Thomas Jefferson and may have been sold to the Library of Congress in 1815. Jefferson did sell a copy of the first edition of this title to the Library of Congress and that copy still exists today. However, the volume includes the bookplate of Peyton Randolph and it has no definitive markings linking it to Wythe. George Wythe's Library[6] on LibraryThing mentions the copy at the Library of Congress, noting "[t]his may be a different copy than Wythe's." The Brown Bibliography[7] discusses the Library of Congress copy and concludes that "Wythe['s] ownership of this Jefferson volume" is "probable." The Wolf Law Library's George Wythe Collection includes a copy of the first edition.
Description of the Wolf Law Library's copy
Bound in sheep-backed boards with red morocco label lettered in gilt. Previous owner's signature, "Lewis Strong," on the front pastedown. Purchased from Meyer Boswell Books, Inc.
Images of the library's copy of this book are available on Flickr. View the record for this book in William & Mary's online catalog.
See also
References
External Links
Read this book in Google Books.