Reports of Cases Argued and Determined in the High Court of Chancery, and of Some Special Cases Adjudged in the Court of King's Bench
From Wythepedia: The George Wythe Encyclopedia
by William Peere Williams
Peere Williams' Reports

Title page from Reports of Cases Argued and Determined in the High Court of Chancery, volume one, George Wythe Collection, Wolf Law Library, College of William & Mary.

Author
William Peere Williams
Editor
{{{editor}}}
Translator
{{{trans}}}
Published
[London] In the Savoy: Printed by E. and R. Nutt, and R. Gosling (assigns of E. Sayer) for T. Osborne
Date
1740-1749
Edition
First
Language
English
Volumes
3 volume set
Pages
{{{pages}}}
Desc.
Folio (33 cm.)
Location
Shelf H-5
 
[[Shelf {{{shelf2}}}]]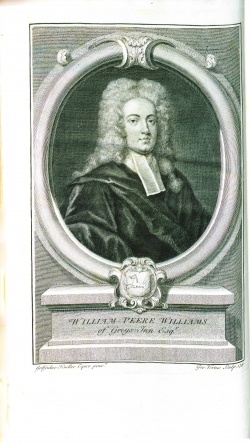 William Peere Williams
(1664/5–1736) was admitted to
Gray's Inn
in 1680 and became a member of the bar in 1687.
[1]
He served as
bencher
of his Inn (1722) and treasurer from 1726 to 1728. Williams has been credited as "the first full and clear reporter of Chancery cases."
[2]
Williams' reports were published posthumously by his son.
His collection of chancery cases was the product of a long professional career, covering the judgments in the court under seven lord chancellors, and the reports have always been regarded as a classical repository of equity jurisprudence in the early eighteenth century. William Peere Williams jun., published the first two volumes in 1740 (second edn, 1746) and the third in 1749, under the title Reports of Cases Argued and Determined in the High Court of Chancery, and of some Special Cases Adjudged in the Court of King's Bench. The reason for deferring the publication of the third volume was said in the preface to be the need for further revision and in some cases to supply the final decision from the registrar's decree books. The comparative quality of the third volume has been questioned, but the reports were dedicated to Lord Hardwicke and received his imprimatur, the chancellor contributing his own notes in at least one important case. The whole work has been cited with approval by later judges. The three folio volumes were reprinted in 1768, and their value enhanced by Samuel Compton Cox, who added scholarly notes to the fourth and fifth editions in 1787 and 1793.[3]
Evidence for Inclusion in Wythe's Library
Listed in the Jefferson Inventory of Wythe's Library as "P. W. rep. 3.v. fol." and given by Thomas Jefferson to Dabney Carr. The Brown Bibliography[4] includes the first edition, while George Wythe's Library[5] on LibraryThing indicates "Precise edition unknown. Folio editions of the first two volumes were published at London in 1740 and 1746; the third volume was published at London in 1749." The Wolf Law Library followed Brown's suggestion and acquired a copy of the first edition for the George Wythe Collection.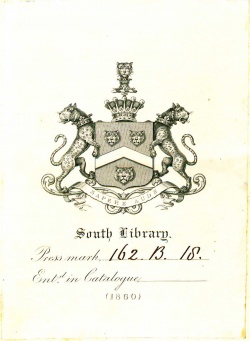 Description of the Wolf Law Library's copy
Bound in contemporary full calf. Spines in seven compartments with decorative gilt stamps and raised bands. Has maroon label with gold title stamp and an engraved frontispiece in volume one. Each volume includes the nineteenth-century armorial bookplate of the Earls of Macclesfield, Shirburn Castle, Oxfordshire, England.
Images of the library's copy of this book are available on Flickr. View the record for this book in William & Mary's online catalog.
See also
References