Reports of Cases Argued and Adjudged in the Courts of King's Bench, Common Pleas and Exchequer: to Which are Added Some Special Cases in the Court of Chancery, and Before the Delegates in the Reigns of King William, Queen Anne, King George the First, and His present Majesty
From Wythepedia: The George Wythe Encyclopedia
by Sir John Comyns
Comyns' Reports

Title page from Reports of Cases Argued and Adjudged in the Courts of King's Bench, Common Pleas and Exchequer, George Wythe Collection, Wolf Law Library, College of William & Mary.

Author
Sir John Comyns
Editor
{{{editor}}}
Translator
{{{trans}}}
Published
London, In the Savoy: Printed by Henry Lintot (assignee of E. Sayer, esq;) for D. Browne
Date
1744
Edition
{{{edition}}}
Language
English
Volumes
{{{set}}} volume set
Pages
[14], 757, [31]
Desc.
Folio (33 cm.)
Location
[[Shelf {{{shelf}}}]]
 
[[Shelf {{{shelf2}}}]]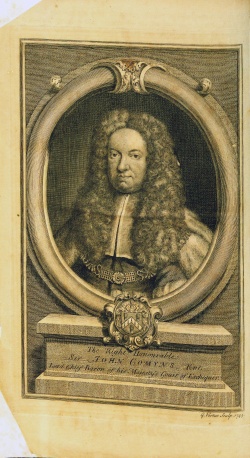 Sir John Comyns
(1667-1740) was an English judge and legal writer. He was admitted as a student at
Lincoln's Inn
in May 1683 and probably began his law studies around 1684.
[1]
Comyns was called to the bar in 1690 and practiced in
King's Bench
until 1705. At that point he took the degree of
serjeant-at-law
and moved to common pleas practice. He was junior MP for Maldon in the Tory interest from 1701 to 1708, and from 1710 to 1715. In 1715 he was unseated on petition.
[2]

In 1722, Comyns returned to Parliament in Maldon. In 1726, he was appointed Baron of the Exchequer and knighted.[3] He transferred to the Court of Common Pleas in 1736, and in 1738 he was appointed Lord Chief Baron of the Exchequer byLord Hardwicke.[4] Comyns authored Reports of Cases Adjudged in the Courts of King's Bench, Common Pleas, and Exchequer which was published by his nephew and heir, John, after his death. Translated from the original law French, the Reports tracks Comyns's career, covering King's Bench cases, common pleas cases, and exchequer cases.
Evidence for Inclusion in Wythe's Library
Both Dean's Memo[5] and the Brown Bibliography[6] suggest Wythe owned the first edition (1744) of this title based on notes in John Marshall's commonplace book.[7] The Wolf Law Library moved a copy of the first edition from another rare book collection to the George Wythe Collection.
Description of the Wolf Law Library's copy
Recently rebound in period-style full calf with banded spine and red and black labels.
View the record for this book in William & Mary's online catalog.
References