Reports of Cases Adjudged in the Court of King's Bench
From Wythepedia: The George Wythe Encyclopedia
Reports of Cases Adjudged in the Court of King's Bench, from the Third Year of King James the Second, to the Twelfth Year of King William the Third
by Thomas Carthew
Reports of Cases Adjudged in the Court of King's Bench

Title page from Reports of Cases Adjudged in the Court of King's Bench, George Wythe Collection, Wolf Law Library, College of William & Mary.

Author
Thomas Carthew
Editor
{{{editor}}}
Translator
{{{trans}}}
Published
London, In the Savoy: Printed by E. and R. Nutt for R. Gosling
Date
1728
Edition
First
Language
English
Volumes
{{{set}}} volume set
Pages
7 p. ℓ., 520, [29]
Desc.
Folio (31 cm.)
Location
[[Shelf {{{shelf}}}]]
 
[[Shelf {{{shelf2}}}]]
Thomas Carthew (1657–1704) entered the Middle Temple in 1683 and was called to the bar in 1686.[1] Carthew was called to the bar of the Inner Temple in 1698 and became serjeant-at-law in 1700.[2] In 1728, Carthew's son, Thomas, posthumously published Carthew's compilation Reports of Cases Adjudged in the Court of King's Bench from 3 Jac. II to 12 Will. III. The volume received mixed reviews. One author noted that Carthew had "a tolerable reputation for accuracy,"[3] but admitted that Lord Thurlow considered the reports to be "bad authority."[4] Another writer relates that Woodeson labeled Carthew "a reporter of no great merit."[5] Nevertheless, the reports were popular enough to reach a second edition in 1741/1743.[6]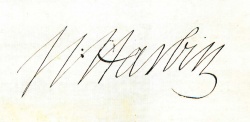 Evidence for Inclusion in Wythe's Library
Both Dean's Memo[7] and the Brown Bibliography[8] suggest Wythe owned this title based on notes in John Marshall's commonplace book.[9] Dean prefers the second edition listed by the Marshall editors, while Brown lists the first edition based in part on the copy sold by Thomas Jefferson to the Library of Congress in 1815.[10] The Wolf Law Library followed Brown's suggestion and purchased a copy of the first (1728) edition.
Description of the Wolf Law Library's copy
Bound in contemporary calf and spines with six raised bands with red morocco label with gilt lettering. Signed by previous owner, "W Harbin" on front pastedown. Purchased from Bow Windows Bookshop.

View this book in William & Mary's online catalog.
References