Reports of Adjudged Cases in the Courts of Chancery, King's Bench, Common Pleas and Exchequer
From Wythepedia: The George Wythe Encyclopedia
by Sir John Strange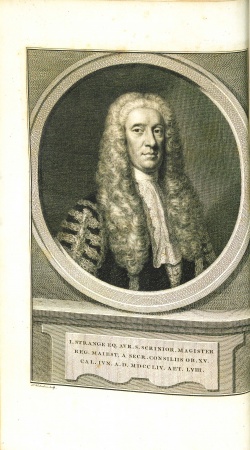 John Strange
(1695-1754) studied law under Charles Salkeld
[1]
and was called to the bar in 1618.
[2]
He served in a variety of legal capacities including solicitor general (1737-1742),
recorder of London
(1739-1742), and
Master of Rolls
(1750-1754).
[3]
"Before his death Strange [began] preparing his collection of reports for publication. Because of his willingness to lend his notes to judges there had been many opportunities for copies of this material, unscrupulously obtained, to pass into the hands of legal hacks. It included summaries and arguments of cases where no judgment had been made. It was Strange's chief concern, therefore, to have ready a definitive compilation of reports of adjudged cases that could be published in the event of any pirating of his work. Accordingly, when some of Strange's case notes did indeed appear shortly after his death under the title of A Collection of Select Cases Relating to Evidence, by a Late Barrister-at-Law, his executors acted swiftly to suppress it, and in 1755 his eldest son published the reports as authentically selected, dedicating them to Lord Hardwicke. Reprinted in second and third editions in 1782 and 1795, Strange's reports endured in their usefulness for the rest of the century and after."[4]
Evidence for Inclusion in Wythe's Library
Listed in the Jefferson Inventory of Wythe's Library as "Strange's rep. 1st. vol." and given by Thomas Jefferson to Dabney Carr. Three of the Wythe Collection sources (Dean's Memo[5], Brown's Bibliography[6] and George Wythe's Library[7] on LibraryThing) include the first edition (1658) of Strange's Reports. LibraryThing does include the caveat "Precise edition unknown, although Wythe was likely to have had a volume from the first edition." The Wolf Law Library purchased a copy of the 1658 edition.

Description of the Wolf Law Library's copy
Bound in contemporary calf. Front pastedown, volume one, inscribed "John M. Davenport, Oxford."
Images of the library's copy of this book are available on Flickr. View the record for this book in William & Mary's online catalog.
See also