Reports in the Court of Kings Bench at Westminster, from the XII to the XXX Year of the Reign of our Late Sovereign Lord King Charles II
From Wythepedia: The George Wythe Encyclopedia
by Joseph Keble
Keble's Reports

Title page from Reports in the Court of Kings Bench at Westminster, volume two, George Wythe Collection, Wolf Law Library, College of William & Mary.

Author
Joseph Keble
Editor
{{{editor}}}
Translator
{{{trans}}}
Published
London: Printed by W. Rawlins, S Roycroft and M. Flesher, assigns of Richard and Edward Atkins for Thomas Dring, Charles Harper, Samuel Keble, and William Freeman
Date
1685
Edition
First
Language
English
Volumes
3 volume set
Pages
{{{pages}}}
Desc.
Folio(32 cm.)
Location
Shelf E-5
 
[[Shelf {{{shelf2}}}]]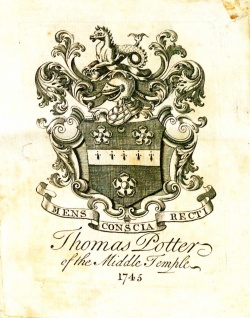 Joseph Keble (1632–1710) entered Gray's Inn in 1647 and became a member of the bar in 1653.[1] He never practiced law, but attended the Court of King's Bench from 1661 onwards, taking notes of the cases he witnessed. Opinions regarding the quality of his reports are uniformly negative.[2] Holdsworth explains "The main defect of Keble's reports is that he merely jotted down what he heard from day to day in court, without attempting to collect into a single narrative the history of any one case. Hence it is necessary to look into several places for cases which extend over several days."[3] Nevertheless, some historians have found value in the role Keble played as a mere "register", noting that "Keble's Reports help, often, to explain difficulties in contemporary Reports of better credit ..."[4]
Evidence for Inclusion in Wythe's Library
Both Dean's Memo[5] and the Brown Bibliography[6] suggest Wythe owned this title based on notes in John Marshall's commonplace book.[7] Both list the first (1685) edition. The Wolf Law Library moved a copy of the first edition from an existing rare book collection to the George Wythe Collection.
Description of the Wolf Law Library's copy
Recently rebound in full black leather with green labels and marbled endpapers. Includes the bookplate of "Thomas Potter of the Middle Temple 1745" on verso of title pages of volumes one and two. Volume one and three inscribed "Samuel Lyman's 1702" on the title page. Volume two signed on the title page "John Kimberlys" with the inscriptions "Samuel Lymon's 1702," "Oliver Ellsworths," and "Property of H.L. Ellsworth 1838" on the front flyleaf. Purchased through the generosity of Daniel W. Baran and Lena Stratton Baran, Class of 1936.
View the record for this book in William & Mary's online catalog.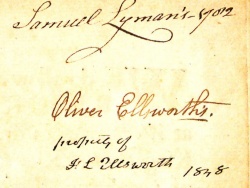 See also
References