Registrum Brevium Tam Originalium, Quam Judicialium
From Wythepedia: The George Wythe Encyclopedia
Registrum Brevium tam Originalium, quam Judicialium: Correctum & Emendatum ad Vetus Exemplar Manuscriptum, Cujus Beneficio, À Multis Erroribus Purgatum, ad Usus, Quibus Inservit Redditur Accommodatius
ascribed to Ralph de Hengham
Registrum Brevium tam Originalium, quam Judicialium

Title page from Registrum Brevium tam Originalium, quam Judicialium, George Wythe Collection, Wolf Law Library, College of William & Mary.

Author
Ralph de Hengham
Editor
{{{editor}}}
Translator
{{{trans}}}
Published
London: Printed by the assigns of Richard and Edward Atkins, esquires, for Thomas Bassett ...
Date
1687
Edition
Fourth
Language
Latin
Volumes
{{{set}}} volume set
Pages
[8], 321, 85 leaves, 59, 239
Desc.
Folio (32 cm.)
Location
[[Shelf {{{shelf}}}]]
 
[[Shelf {{{shelf2}}}]]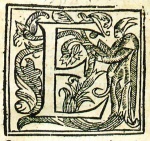 "It is doubtful whether any book used by mediaeval practitioners had greater importance in the history of [English] law than the collection of
writs
known as
Registrum Brevium
."
[1]
Loosely translated "The Register of Writs," there were many printed editions and innumerable manuscript editions, few of which are precisely the same.
[2]
First printed in 1531 by William Rastell, it reached a fourth edition in 1687. This edition included an appendix,
Appendix Diversa Brevia tam Vetera tam Recentiora
, and Simon Theloall's
Le Digest des Briefs Originals, et des Choses Concernants Eux
.

The 1687 edition is attributed[3] to Sir Ralph de Hengham (1235–1311), the first chief justice to have taken time at the end of each case presented in the court to explain the general point of law involved so that the law students present in the courtroom could better understand the case.[4] He also authored several lectures on a variety of law topics.[5]

Hengham served as a court clerk but was rapidly appointed to his own judicial office in 1271.[6] Eventually he was promoted from the common bench to become chief justice of the court of King's Bench in 1274.[7] He served as the chief justice for fifteen years. Hengham was dismissed from office in 1289 on corruption charges.[8] Despite being convicted of what appeared to only be a technicality, the price of his release from prison was extraordinarily high.[9] Hengham did not regain the King's favor until 1300 when he was appointed as an Assize judge.[10] He rejoined the King's council by the end of the year. When the chief justice of the common bench died in the summer of 1301, Hengham was appointed to replace him. Hengham served as the chief justice until 1309.[11]
Evidence for Inclusion in Wythe's Library
Listed in the Jefferson Inventory of Wythe's Library as Registrum brevium fol. and given by Thomas Jefferson to Dabney Carr. The University of Virginia owns a copy of the fourth (1687) edition with the inscription "Given by Thos. Jefferson to D. Carr". Both the Brown Bibliography[12] and George Wythe's Library[13] on LibraryThing include that edition based on the University of Virginia copy. The Wolf Law Library moved a copy of this edition from the general rare books collection to the George Wythe Collection.
Description of the Wolf Law Library's copy
Rebound in period-style full calf. The title page includes signatures and annotations.
View this book in William & Mary's online catalog.
References
External Links
Read this book in Google Books.