The Pursuits Of Literature
From Wythepedia: The George Wythe Encyclopedia
by Thomas James Mathias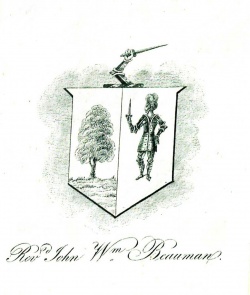 Thomas James Mathias (1753/4-1835) was an accomplished satirist and Italian scholar.[1]


Mathias is chiefly known for his satire The Pursuits of Literature, or, What you will which was published in four dialogues from 1794-1797. This work was in part a response to the French Revolution and prevalence of radicalism in democratic supporters.[2] Despite criticism of his lack of poetic proficiency, his satire of contemporary figures made it an incredibly popular work.[3]


After his mother's death in 1799, Mathias published numerous Italian translations of English poems in a perfect mastery of the written language[4] and moved to Naples in 1814, where he became a respectful member of Italian society.


Mathias's Pursuits of Literature, or, What you will, a wide-ranging satire with extensive notes on the conceit and licence of contemporary authors, appeared anonymously in four dialogues, the first on 7 June 1794, the second and third on 14 July 1796, and the fourth on 19 July 1797. The poem was issued as a whole in a 'fifth edition revised' in 1798, alongside several editions of a translation of the classical passages quoted in the poem. The attacks on Payne Knight's Worship of Priapus and Lewis's The Monk are concerned with obscenity, and Mathias ridicules the 'Black-Letter Kennell' of antiquarians (especially George Steevens), W. H. Ireland, Parr, Darwin, and Gilpin, on literary grounds. There is praise for Gray, Mason, Beattie, Burns, Cowper, Ann Radcliffe, Capell, Johnson, Isaac Reed, and Jacob Bryant, as well as for several of Mathias's own works. But the poem is confessedly of its political moment, declaring openly that literature is an important tool of government. Held up for censure are Sheridan, Fox, Priestley, Paine, Horne Tooke, and Godwin. The vehement distrust of Catholics in the poem was also expressed separately in A Letter to the Lord Marquis of Buckingham (1796). [5]
Bibliographic Information
Author: Thomas James Mathias, (1753/4-1835)
Title: The Pursuits Of Literature: A Satirical Poem, In Four Dialogues, With Notes
Published: Dublin: Printed for J. Milliken, 1798.
Edition:
Evidence for Inclusion in Wythe's Library
Description of the Wolf Law Library's copy
Bound in original full-leather covers with gilt title on read leather spine label. Purchased from Shoemaker Booksellers.
References