The Pursuits Of Literature
From Wythepedia: The George Wythe Encyclopedia
The Pursuits of Literature: A Satirical Poem, in Four Dialogues, with Notes
by Thomas James Mathias
The Pursuits of Literature

Title page from The Pursuits of Literature, George Wythe Collection, Wolf Law Library, College of William & Mary.

Author
Thomas James Mathias
Editor
{{{editor}}}
Translator
{{{trans}}}
Published
Dublin: Printed for J. Milliken
Date
1798
Edition
Eighth
Language
English
Volumes
{{{set}}} volume set
Pages
2 p. ℓ., 2 p., 1 ℓ., xxxi, 381
Desc.
8 vo (21 cm.)
Location
[[Shelf {{{shelf}}}]]
 
[[Shelf {{{shelf2}}}]]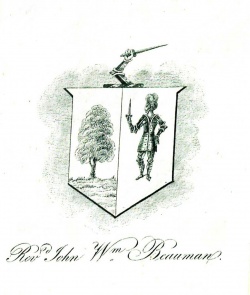 Thomas James Mathias (1753/4-1835) was an accomplished satirist and Italian scholar[1] chiefly known for his satire The Pursuits of Literature, or, What you will. Published in four dialogues from 1794-1797, the work was in part a response to the French Revolution and prevalence of radicalism in democratic supporters.[2] Despite criticism of his lack of poetic proficiency, his satire of contemporary figures made it an incredibly popular work.[3]

After his mother's death in 1799, Mathias published numerous Italian translations of English poems in a perfect mastery of the written language[4] and moved to Naples in 1814, where he became a respectful member of Italian society.

Evidence for Inclusion in Wythe's Library
Listed in the Jefferson Inventory of Wythe's Library as "Pursuits of Literature. 8vo." This was one of the titles kept by Thomas Jefferson and may have been sold to the Library of Congress in 1815. Jefferson did sell a copy of Mathias's Pursuits of Literature to the Library of Congress but the volume no longer exists to verify its edition or Wythe's prior ownership. George Wythe's Library[5] on LibraryThing indicates "Precise edition unknown. This was first published in 1794, and many London and Dublin editions followed." The Brown Bibliography[6] includes the eighth Dublin edition (1798) based on Millicent Sowerby's use of that edition in Catalogue of the Library of Thomas Jefferson.[7] The Wolf Law Library followed Brown's recommendation and purchased a copy of the eighth edition for the George Wythe Collection.
Description of the Wolf Law Library's copy
Bound in original full-leather covers with gilt title on read leather spine label. Includes the bookplate of the Rev. John William Beauman on the front pastedown. Purchased from Shoemaker Booksellers.
View this book in William & Mary's online catalog.
References