Polymetis
From Wythepedia: The George Wythe Encyclopedia
by Joseph Spence
Polymetis

Title page from Polymetis, George Wythe Collection, Wolf Law Library, College of William & Mary.

Author
Joseph Spence
Editor
{{{editor}}}
Translator
{{{trans}}}
Published
London: R. Dodsley
Date
1747
Edition
First
Language
English
Volumes
{{{set}}} volume set
Pages
xii, 361
Desc.
Folio (42 cm.)
Location
[[Shelf {{{shelf}}}]]
 
[[Shelf {{{shelf2}}}]]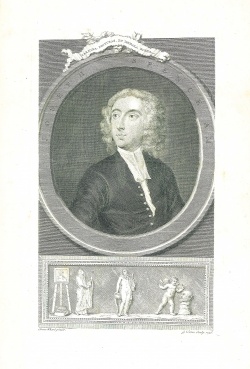 Joseph Spence
(1699-1748) was an English scholar of both literature and anecdote, who spent the majority of his life traveling throughout Europe. During these travels he wrote many of his most distinguished works and received inspiration for other literary works and lectures which he went on to give at Oxford. Of note is Spence's close relationship with
Alexander Pope
, a fellow literary figure who became a life-long friend to Spence and heavily influenced his work. Due in part to this friendship, Spence was elected as the Oxford chair of poetry in 1728 and he went on to become a professor of modern history at Oxford in 1742. After publishing Polymetis, Spence used his profits to fulfill his love of gardening and continued to produce literary works (both published and unpublished) until his death in 1748.
[1]

Polymetis: or, An Enquiry Concerning the Agreement between the Works of the Roman Poets, and the Remains of the Antient Artists, Being an Attempt to Illustrate Them Mutually from One Another, published in 1747, reflected Spence's first visit to Italy and draws upon the works he observed while there. Written in dialogue form, this work provides a history and criticism on subjects such as Roman sculpture, mythological art, and Latin poetry, complete with illustrations.[2] With a special focus on how these works of art and literature interplay and provide explanations for each other, Spence, as the title suggests, "attempt[s] to illustrate them mutually from one another." Polymetis was significant both in the education system for decades following its publication and for Keats, who used Polymetis as a guide to ancient mythological imagery.[3]
Evidence for Inclusion in Wythe's Library
Listed in the Jefferson Inventory of Wythe's Library as "Spence's Polymetis. fol." and kept by Thomas Jefferson. Jefferson sold a copy to the Library of Congress but it no longer exists to verify the edition or Wythe's previous ownership.[4] The Brown Bibliography[5] lists the first edition (1747) based on E. Millicent Sowerby's entry in Catalogue of the Library of Thomas Jefferson. George Wythe's Library[6] on LibraryThing indicates "Precise edition unknown. Folio editions were published by the Dodsleys in 1747, 1755, and 1774."
Historians believe Wythe used
Polymetis
to design the seal of the Commonwealth of Virginia.
[7]
John Page wrote Jefferson,
Cite error: Closing </ref> missing for <ref> tag
</blockquote>
Description of the Wolf Law Library's copy
Bound in contemporary calf with gilt spine and red spine label.

View this book in William & Mary's online catalog.
References