Plusieurs Tres-Bons Cases: Come Ils Estoyent Adjudgees es Trois Premiers Ans du Raign du Feu Roy Charles le Premier en la Court de Bank le Roy, non Encore Publiees per Aucun Autre
From Wythepedia: The George Wythe Encyclopedia
by John Latch
Little is known of John Latch. His reports result from a copy Latch made of another manuscript borrowed, perhaps, from Gefrey Palmer.[1] Because Latch's reports were published posthumously, he may never have intended to publish his copy. Indeed, the uneven quality of the reports hints that Latch had no such intention. One writer describes the volume: "Sometimes, though not often, there is a full and pretty sensible case; then a good many cases in which you have nothing but some abstract point of law in two or three to a half dozen lines, without either statement of case, argument, or judgment ...[2] Another writes, "the want of the finishing touch is in many parts glaringly conspicuous."[3]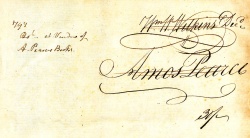 Evidence for Inclusion in Wythe's Library
Brown's Bibliography[4] lists the first edition of this title based on entries in the manuscript version of John Marshall's law notes. The Wolf Law Library followed Brown's suggestion and purchased a copy of the first edition.
Description of the Wolf Law Library's copy
Bound in modern full calf, boards ruled with gilt. Five bands on spine with gilt rules and embellishments. Original(?) red morocco label with gilt lettering. Title page inscribed "Lestr. Calthorpe." Front flyleaf inscribed "1798, bot. at Vendors of A. Pearce's Books" with the signatures of "Wm. Th. Wilkins, Decd. and "Amos Pearce." Bound with three other titles: Sir Richard Hutton's The Reports of that Reverend and Learned Judge, Sir Richard Hutton ... Sometimes One of the Judges of the Common Pleas, Containing Many Choice Cases, Judgements, and Resolutions, in Points of Law, in the Severall Raignes of King James and King Charles (London: Printed by T.R. for H. Twyford and T. Dring, 1656; and two works by Sir John Davies, Les Reports des Cases & Matters en Ley, Resolves & Adjudges en les Courts del Roy en Ireland (London: Printed by E. Flesher, J. Streater, and H. Twyford, assigns of Richard Atkyns and Edward Atkyns, esquires, 1674) and Une Exact Table al Report de Sir John Davys Chivaler, Atturney General del Roy en Ireland (London: Printed for James Collins, and Charles Harper, 1677).
Images of the library's copy of this book are available on Flickr. View the record for this book in William & Mary's online catalog.
Full text
See also
References