The Plays of William Shakespeare
From Wythepedia: The George Wythe Encyclopedia
by William Shakespeare
The Plays of William Shakespeare

Title page from The Plays of William Shakespeare, volume three, George Wythe Collection, Wolf Law Library, College of William & Mary.

Author
William Shakespeare
Editor
Samuel Johnson and George Steevens
Translator
{{{trans}}}
Published
London: Printed for C. Bathurst et al.
Date
1778
Edition
{{{edition}}}
Language
English
Volumes
10 volume set
Pages
{{{pages}}}
Desc.
8 vo (23 cm.)
Location
Shelf M-1
 
[[Shelf {{{shelf2}}}]]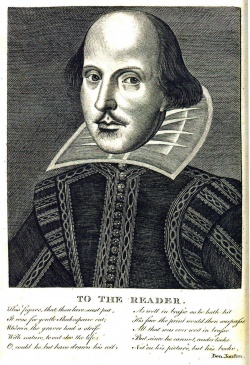 William Shakespeare
(1564-1616) is widely considered the foremost writer in the English language.
[1]
Shakespeare was an actor who begun to write plays sometime between 1585 and 1592. He began his career as a playwright with English histories, such as
Henry VI
, comedies, like
The Taming of the Shrew
, and tragedies, such as
Titus Andronicus
.
[2]
His first published work was the poem
Venus and Adonis
(1593).
"The dating of Shakespeare's works is often opaque and the early plays pose especial problems."[3] Shakespeare began publishing plays in 1594 although he began writing them somewhat earlier. In the mid-1590s, he wrote Love's Labour's Lost, Richard II, Romeo and Juliet, and A Midsummer Night's Dream. He continued to write prolifically during the late 1590s and early 1600s. In 1606 Shakespeare wrote King Lear and Macbeth, which were both influenced by contemporary politics. By 1609, about half of Shakespeare's plays had been printed. Shakespeare continued to write plays until 1613; he died in 1616.
Shakespeare is known for his exploration of human nature, as Samuel Johnson states in his famous "Preface to the Works of Shakespeare", "His persons act and speak by the influence of those general passions and principles by which all minds are agitated, and the whole system of life is continued in motion. . . .Shakespeare has no heroes; his scenes are occupied only by men, who act and speak as the reader things that he himself should have spoken and acted on the same occasion."[4]
The first folio of Shakespeare's work was published in 1623, and was expanded and revised countless times in the next century. Editions of the collected works of Shakespeare accumulated notes of different editors and biographical details that cumulate with The Plays of William Shakespeare: In Ten Volumes. This folio edition only includes Shakespeare's plays.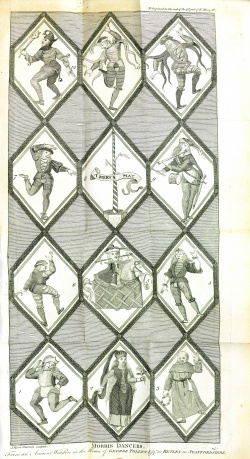 Evidence for Inclusion in Wythe's Library
Listed in the Jefferson Inventory of Wythe's Library as "Shakespear by Johnson & Steevens with the Supplement 12.v." This was one of the titles kept by Thomas Jefferson. Jefferson sold a set of The Plays of William Shakespeare to the Library of Congress in 1815, but the volumes no longer exist to verify Wythe's prior ownership. Both George Wythe's Library[5] on LibraryThing and the Brown Bibliography[6] include the second edition (1778-1780) based on Millicent Sowerby's use of that edition in Catalogue of the Library of Thomas Jefferson.[7] The Wolf Law Library followed Sowerby's recommendation and purchased a copy of the second edition for the George Wythe Collection.
Description of the Wolf Law Library's copy
All volumes uniformly bound in tree calf leather with ornate gilt border to upper and lower boards and gilt turn ins. Three contemporary gilt bordered black leather labels to spines with marbled endpapers. Set includes two volume Supplement edited by Samuel Johnson and George Steevens (London: C. Bathurst [etc.], 1780). Purchased from Weybridge Books.
Images of the library's copy of this book are available on Flickr. View the record for this book in William & Mary's online catalog.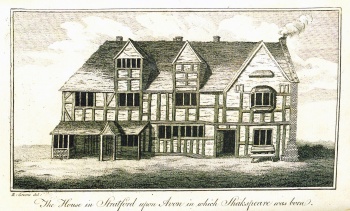 See also
References
External Links
Read volume five of this book in Google Books.