Difference between revisions of "Philip Schuyler to John Hancock, referred to Wythe & Committee, 24 January 1776"
From Wythepedia: The George Wythe Encyclopedia
Line 34:
Line 34:
 
 
 

[[Category:Letters to Wythe]]

 

[[Category:Letters to Wythe]]

 
+
 

[[Category:PROOFED]]

 

[[Category:PROOFED]]
---
Revision as of 12:09, 29 September 2016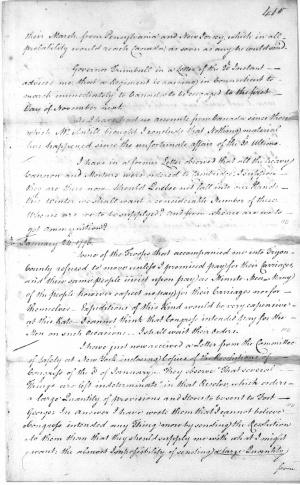 Letter text
Page 1
January 24. 1776

Some of the Troops that accompanied me into Tryon County refused to move unless I promised pay for their Carriages, and these same people insist upon pay as Minute Men — Many of the people however expect no pay for their Carriages nor for themselves — Expeditions of this Kind would be very expensive at this Rate — I cannot think that Congress intended pay for the Men on such Occasions — I shall wait their Orders.

I have just now received a Letter from the Committee of Safety at New York inclosing Copies of the Resolutions of Congress of the 8t of January — They observe "That several Things are left indeterminate" in that Resolve, which orders a large Quantity of provisions and Stores to be sent to Fort George: In Answer I have wrote them that "I cannot believe Congress intended any Thing more by sending the Resolution to them than that they should supply me with what I might want: the almost Impossibility of sending a large Quantity from
Page 2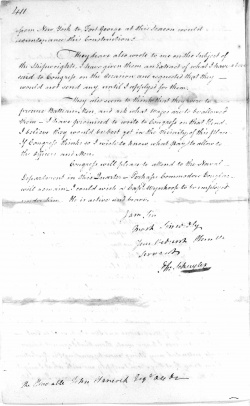 from New York to Fort George at this Season would countenance this Construction."

They have also wrote to me on the Subject of the Shipwrights, I have given them an Extract of what I have above said to Congress on the Occasion and requested that they would not send any until I applyed for them.

They also seem to think that they were to procure Batteau-Men and ask what Wages are to be allowed them — I have promised to write to Congress on that head — I believe they would be best got in the Vicinity of this Place — If Congress think so I wish to know what Pay to allow to the Officers and Men.

Congress will please to attend to the Naval Department in this Quarter — Perhaps Commodore Douglas will remain — I could wish a Capt. Wynkoop to be employed under him — He is active and brave.

I am Sir
Most Sincerely
Your Obedient Humble Servant
Ph: Schuyler


The Honorable John Hancock Esq. &c. &c.
See also