Patriarcha, or, The Natural Power of Kings
From Wythepedia: The George Wythe Encyclopedia
by Sir Robert Filmer
Patriarcha, or, The Natural Power of Kings

Title page from Patriarcha, or, The Natural Power of Kings, George Wythe Collection, Wolf Law Library, College of William & Mary.

Author
Sir Robert Filmer
Editor
{{{editor}}}
Translator
{{{trans}}}
Published
London: Printed, and are to be sold by Walter Davis Book-binder
Date
1680
Edition
First
Language
English
Volumes
{{{set}}} volume set
Pages
7, 141
Desc.
8vo (19 cm.)
Location
Shelf C-4
 
[[Shelf {{{shelf2}}}]]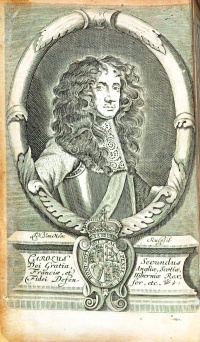 Sir Robert Filmer
(c. 1588-1653), an English political theorist and defender of the divine rights of kings, was born in Kent's East Sutton parish.
[1]
He matriculated at
Trinity College
, Cambridge, in 1604, though he did not take a degree. Filmer was later admitted to
Lincoln's Inn
, one of the four
Inns of Court
in London to which barristers of England and Wales belong when they are "called to the Bar," an English term indicating that a one is qualified to argue in court on behalf of another.
[2]
Filmer was called to the bar in 1613. Despite his qualifications, there is no evidence that he ever practiced law.

Patriarcha, Filmer's best-known work, was written in about 1630 and remained unpublished for nearly 50 years.[3] Much dispute has arisen over Patriarcha's original date of composition, but there is strong evidence to suggest that the manuscript was composed before 1631.[4] Patriarcha represents an attack on Calvinists and Jesuits, two enemies of royal power in Filmer's view.[5] In it, Filmer espouses the doctrines of extreme believers of the Divine Right party: the family represents the appropriate model of all government, and subjects have a duty of passive obedience.[6] Filmer's argument in Patriarcha traces the divine nature of the rule of patriarchs from the Old Testament onward, asserting that modern kings draw their power from the authority given by God to Adam, to Noah, and to Noah's three sons (Shem, Ham, and Japheth) who ruled the three continents of the Biblical Old World.

After his death, Filmer's writings gained notoriety as a target for criticism in John Locke's first Treatise and became an object of ridicule for Locke's Whig contemporaries, including James Tyrell and Algernon Sidney.[7]
Evidence for Inclusion in Wythe's Library
Dean's Memo[8] includes the 1760 edition of Political Discourses...viz. Patriarchs, or the Natural Power of Kings based on a reference in William Clarkin's biography of Wythe. In discussing Thomas Jefferson's education under Wythe, Clarkin states "[w]e do know that Jefferson studied ... Filmer's Patriarcha," but Clarkin provides no source of corroborating evidence.[9] Brown's Bibliography[10] lists two of Filmer's works, Observations Concerning the Original and Various Forms of Government (1696) and Patriarcha: or the Natural Power of Kings (1680) based on Jefferson's copy at the Library of Congress in which the two titles are bound together. Brown also notes Clarkin's reference and the lack of supporting evidence. The Wolf Law Library purchased the 1680 edition of Patriarcha: or the Natural Power of Kings.

Description of the Wolf Law Library's copy
Bound in period-style full blind calf. Includes a printed label "Petter Laslett Trinity College Cambridge" with the inscription "Gift of Edward Miller, 20 April, 1941. Bound by Gray, 1971" on the front pastedown. Also has the inscription "Peter Laslett, Joh. 30/4/51. Fm EM" on the front flyleaf. Purchased from Tavistock Books. Images of the library's copy of this book are available on Flickr. View the record for this book in William & Mary's online catalog.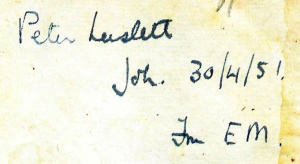 See also
References