Of the Law of Nature And Nations
From Wythepedia: The George Wythe Encyclopedia
by Samuel Pufendorf
Of the Law of Nature and Nations

Title page from Of the Law of Nature and Nations: Eight Books, George Wythe Collection, Wolf Law Library, College of William & Mary.

Author
Samuel Pufendorf
Editor
{{{editor}}}
Translator
Basil Kennett and William Percivale
Published
Oxford: Printed by L. Lichfield, for A. and J. Churchil
Date
1710
Edition
Second
Language
English
Volumes
{{{set}}} volume set
Pages
[24], 724, [22]
Desc.
Folio (34 cm.)
Location
[[Shelf {{{shelf}}}]]
 
[[Shelf {{{shelf2}}}]]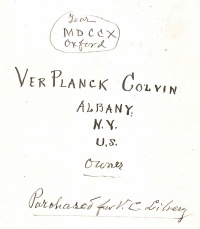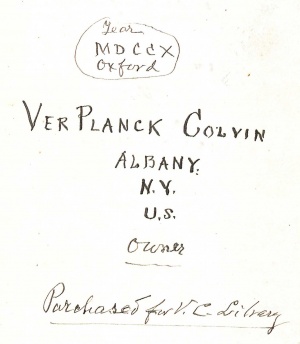 Of the Law of Nature and Nations
, originally published in 1672 as
De Jure Naturae et Gentium Libri Octo
, proposed a system of private, public, and international law based on natural law. It was written by
Baron Samuel von Pufendorf
(1632–1694), a German political philosopher, statesman, and historian.
[1]
The son of a Saxon clergyman, he had originally intended to pursue a career in the church, but after studying theology at the
University of Leipzig
his interests shifted to politics, law, and philosophy. In 1658 Pufendorf became a tutor to a minister to
King Charles X of Sweden
, and three years later he was granted a chair at the
University of Heidelberg
for the law of nature and nations, the first of its kind in the world.
[2]

Two years after accepting an offer from the King of Sweden to teach at the University of Lund, Pufendorf published this book.[3] Pufendorf was highly critical of those who abused power, whether they did so through the state or the church, and he proposed that international law should not be restricted to Christendom and instead respect the rights of all men.[4] It was highly influential, not only in Germany, where it is said to have contributed to the Enlightenment during the eighteenth century, but throughout Europe and eventually in the United States. Pufendorf's grounding of political concepts in natural law made him a person of interest to future American leaders such as Thomas Jefferson, James Madison, and Alexander Hamilton.[5]
Evidence for Inclusion in Wythe's Library
Listed in the Jefferson Inventory of Wythe's Library as Puffendorf. and given by Thomas Jefferson to James Dinsmore. The precise title and work are unknown. Brown's Bibliography[6] includes the choice of either the 1749 English edition or the 1740 French edition of Pufendorf's work based in part on the copies Jefferson sold to the Library of Congress[7] and also on citations from Wythe's arguments in Bolling v. Bolling.[8] George Wythe's Library[9] on LibraryThing notes "Precise work/edition unknown. Probably an English-language edition of Pufendorf's The law of nature and nations, but could also be one of several possible works in Latin or English." The Wolf Law Library purchased a copy of the 1710 (second edition) English translation of De Jure Naturae et Gentium Libri Octo to represent this entry in Jefferson's inventory.
Description of the Wolf Law Library's copy
Bound in contemporary full calf, rebacked in period style. Includes the inscription "Year MDCCX Oxford, VerPlanck Colvin, Albany, N. Y., U. S., Owner, Purchased for V. C. Library." on the front pastedown. Purchased from The Lawbook Exchange, Ltd.
View this book in William & Mary's online catalog.
References