Of the Advancement and Proficiencie of Learning, or, The Partitions of Sciences, IX Bookes
From Wythepedia: The George Wythe Encyclopedia
by Francis Bacon
Of the Advancement and Proficiencie of Learning

Title page from Of the Advancement and Proficiencie of Learning, George Wythe Collection, Wolf Law Library, College of William & Mary.

Author
Francis Bacon
Editor
{{{editor}}}
Translator
{{{trans}}}
Published
Oxford: Printed by Leon. Lichfield for Rob. Young & Ed. Forrest
Date
1640
Edition
{{{edition}}}
Language
English
Volumes
{{{set}}} volume set
Pages
[36], 60, [14], 477 [i.e. 479, 23] p. (the last leaf blank), [1] leaf of plates : 1 port. (engraving)
Desc.
folio (29 cm.)
Location
Shelf A-4
 
[[Shelf {{{shelf2}}}]]
Of the Advancement and Proficiencie of Learning, or, The Partitions of Sciences, IX Bookes (commonly known as The Advancement of Learning) is an extensive study by English philosopher, politician, scientist, and author, Francis Bacon, Viscount St. Alban (1561 – 1626). Born in London to Sir Nicholas Bacon and Lady Anne Cooke, Bacon received his early education from his well-educated parents at home, and later attended Trinity College, Cambridge and Gray's Inn, London.[1]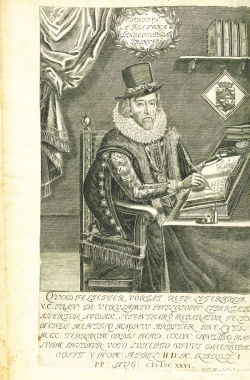 The Advancement of Learning, written in 1605, is one of Bacon's earliest works, in which he delves into the study and acquisition of knowledge.[2] The first part focuses on learning and its importance in every day life. The second part has a much broader scope, covering the state of human knowledge, discovering its weak spots and offering broad suggestions on how it can be improved.[3]
After he wrote the book, Bacon's political career gained steam. He quickly rose in power, becoming successively solicitor general (1607), attorney general (1613), and lord chancellor (1618).[4] He also authored numerous other volumes, including the influential Novum Organum (1620) and History of Henry VII (1622).[5] An edition of his collected works, gathered by A. Millar, was first published in 1640.
Evidence for Inclusion in Wythe's Library
Listed in the Jefferson Inventory of Wythe's Library as Bacon's advancement of learning. p. fol. Eng. This was one of the titles kept by Thomas Jefferson and later sold to the Library of Congress in 1815. Both the Brown Bibliography[6] and George Wythe's Library[7] on LibraryThing include the 1674 (2nd) edition, based on Millicent Sowerby's entry in Catalogue of the Library of Thomas Jefferson,[8] The volumes owned by Wythe no longer exist to verify the edition, although Sowerby bases her choice on the previous correction of a date "1670" to "1674" from the Library of Congress catalogs. While it may be more likely that Wythe owned the 1674 edition, the date "1670" could also have meant "1640." The Wolf Law Library's George Wythe Collection includes the 1640, first edition, based in part on this ambiguity and in part on the availability of editions for purchase.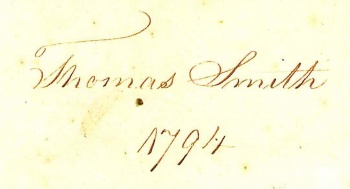 Description of the Wolf Law Library's copy
Bound in contemporary blind-stamped calf with engraved frontispiece and engraved title leaf. This copy has the first version of the frontispiece, signed by William Marshall and dated 1626. Inscribed on the front fly-leaf, "Thomas Smith, 1794." Purchased from Bookpress, Ltd.
Images of the library's copy of this book are available on Flickr. View the record for this book in William & Mary's online catalog.
Full text
See also
References