Notes of Cases in Points of Practice: Taken in the Court of Common Pleas at Westminster from Michaelmas Term, 1732 to Hilary Term, 1754
From Wythepedia: The George Wythe Encyclopedia
by Sir Henry Barnes
Notes of Cases in Points of Practice

Title page from Notes of Cases in Points of Practice, volume one, George Wythe Collection, Wolf Law Library, College of William & Mary.

Author
Sir Henry Barnes
Editor
{{{editor}}}
Translator
{{{trans}}}
Published
London, In the Savoy: Printed by Henry Lintot, for John Shuckburgh
Date
1754
Edition
Second
Language
English
Volumes
2 volume set
Pages
{{{pages}}}
Desc.
8vo (21 cm.)
Location
Shelf E-4
 
[[Shelf {{{shelf2}}}]]
Henry Barnes was a secondary and a clerk of errors in the Court of Common Pleas.[1] In his only known published work, Notes of Cases in Points of Practice, he is described as a "gentleman of the Middle Temple"[2] and a secondary of the Court of Common Pleas.[3] Barnes was buried on January 20, 1773 in the Hampstead area of northern London.

Notes of Cases in Points of Practice reported cases decided in the Court of Common Pleas during the reign of King George II. The second edition covers cases up to the year 1754. By its third edition, Notes of Cases contained over 2500 cases, which are reported very briefly.[4] According to nineteenth century legal author J.G. Marvin, the reported cases are not always highly reliable, but he also wrote that perfect accuracy should not be expected with such a high number of cases decided by a variety of judges.[5]

Lord Chief Justice of the Common Pleas William de Grey owned a copy of the second edition, having received it while he occupied that position.[6] The reason for his ownership of the book could have been to address his lack of familiarity with the practice and precedent of Common Pleas, as most of his experience came from the King's Bench.[7] He may have also received it as a gift from the author.[8] During De Grey's time as Lord Chief Justice, Barnes' book was cited regularly during oral argument.[9] The third edition was called "very useful" by a contemporary legal bibliography, which also described it as being scarce at the time.[10]
Evidence for Inclusion in Wythe's Library
Brown's Bibliography[11] includes the first edition (1740) of Barnes's Notes of Cases in Points of Practice based on quotations in the manuscript copy of John Marshall's law notes. No strong evidence points to which edition Wythe may have owned, but it's reasonable to suggest he would have owned the second (1754) or third edition (1790) since those editions included cases through 1754. The Wolf Law Library moved a copy of the first volume of the second edition from the general rare books collection to the George Wythe Collection and purchased a copy of volume two.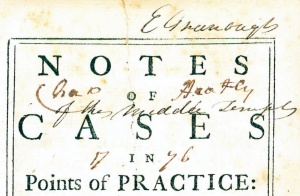 Description of the Wolf Law Library's copy
The law library owns volumes from two different sets. Both volumes have been rebound in period style full calf. Spines feature gilt rules, red title labels and black volumes labels with gilt lettering. The title page of volume one is signed "R.W. Hughes" and "Marcroft?"
Images of the library's copy of this book are available on Flickr. View the record for this book in William & Mary's online catalog.
See also
References