A New System, or, An Analysis of Ancient Mythology: Wherein an Attempt is Made to Divest Tradition of Fable and to Reduce the Truth to its Original Purity : in this work is given an history of the Babylonians, Chaldeans, Egyptians, Canaanites, Helladians, Ionians, Leleges, Dorians, Pelasgi : also of the Scythae, Indo-Scythae, Ethiopians, Phenicians
From Wythepedia: The George Wythe Encyclopedia
by Jacob Bryant
A New System, or, An Analysis of Ancient Mythology

Title page from A New System, or, An Analysis of Ancient Mythology, volume two, George Wythe Collection, Wolf Law Library, College of William & Mary.

Author
Jacob Bryant
Editor
{{{editor}}}
Translator
{{{trans}}}
Published
London: Printed for T. Payne, P. Elmsly, B. White, and J. Walter
Date
1775-1776
Edition
Second
Language
English
Volumes
3 volume set
Pages
{{{pages}}}
Desc.
4to (30 cm.)
Location
[[Shelf {{{shelf}}}]]
 
[[Shelf {{{shelf2}}}]]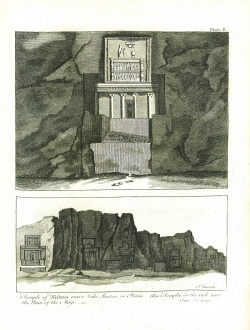 Jacob Bryant
(1715-1804) was born in England, where he was a respected scholar and mythographer.
[1]
In his first book,
Observations and Enquiries Relating to Various Parts of Ancient History
(1767), Bryant attacked selected opinions in the works of such celebrated antiquarian scholars as Theodore Beza (1519–1605), Hugo Grotius (1583–1645), Samuel Bochart (1599–1667), and Richard Bentley (1662–1742). His work was favourably received. Suitably encouraged, he next published the book for which he is most often remembered,
A New System, or, An Analysis of Ancient Mythology
. Bryant believed all mythology came from the Hebrew Scripture. He used
A New System
to link mythology to the Book of Genesis,
[2]
and explained how contemporary society arose from ancient civilizations. "It is my purpose in the ensuing work to give an account of the first ages; and of the great events, which happened in the infancy of the world. In consequence, I shall lay before the reader, what Gentile writers have said upon this subject, collaterally with the accounts given by Moses, as long as I find him engaged in the generally history of mankind."
[3]

A New System, according to its subtitle, was "an attempt … to divest tradition of fable, and to reduce the truth to its original purity;" the actual result was simply a fantastic hodgepodge of spurious etymology (in the manner of Bochart) and riotous imagination.[4] The work opened conversation between world scholars, as several writers publicly opposed Bryant's ideas and encouraged him to respond through further writing.[5]
Evidence for Inclusion in Wythe's Library
George Wythe definitely owned this title. A copy of the 1775-1776 edition at the Library of Congress has "a number of manuscript notes and corrections" made by Wythe.[6] Thomas Jefferson listed the title in his inventory of Wythe's Library as Bryant's Mythology. 3.v. 4to. He sold it to the Library of Congress in 1815. All four of the Wythe Collection sources (Goodwin's pamphlet[7] Dean's Bibliography[8], Brown's Bibliography[9] and George Wythe's Library[10] on LibraryThing) list the 1775-1776 edition of Bryant's Mythology. The Wolf Law Library purchased a copy of the same edition.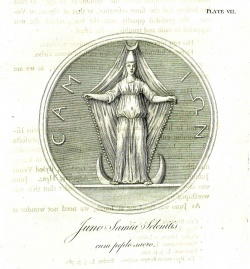 Description of the Wolf Law Library's copy
Bound in contemporary calf with gilt panelled backstrips and red and green labels.
View the record for this book in William & Mary's online catalog.
References
External Links
Read volume three of this book from Google Books.