New Precedents in Conveyancing: Containing Great Variety of Curious Draughts, Many of Them on Special Occations, Drawn or Settled by Mr. Piggot, Northey, Webb, and Other Eminent Hands; and Now Publish'd from Original Manuscripts
From Wythepedia: The George Wythe Encyclopedia
by Nathaniel Pigott
Pigott's Conveyancing

Title page from New Precedents in Conveyancing, George Wythe Collection, Wolf Law Library, College of William & Mary.

Author
Nathaniel Pigott
Editor
{{{editor}}}
Translator
{{{trans}}}
Published
London: Printed by H. Lintot for J. Worrall
Date
1742
Edition
Second
Language
English
Volumes
{{{set}}} volume set
Pages
iv, 576, [26]
Desc.
Folio (31 cm.)
Location
Shelf L-5
 
[[Shelf {{{shelf2}}}]]
Nathaniel Pigott (1661 – 1737) was a barrister and counselor at law. He was admitted to the Inner Temple in 1683 and called to the bar in 1688.[1] In 1689 he refused to take the required oaths of supremacy and allegiance and receive the sacrament.[2] As a result, he was vacated on the grounds that he was a Roman Catholic.[3] In 1690 his suspension was removed although he was still prescribed from pleading a case in court.[4] Pigott was the last Catholic called to the bar until 1791.[5]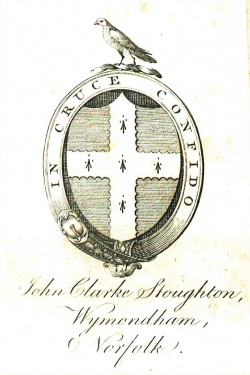 Pigott practiced as a chamber counsel and conveyancer.[6] He acted as a trustee for conveyances, furnished legal opinions, and offered legal and business advice.2 Experts agree that Pigott had a particular expertise in conveyance.[7] Many of his clients were also Roman Catholics, therefore his expertise in conveyancing was particularly important to the preservation of their estates.[8] Roman Catholic estates were vulnerable to claims from potential protestant heirs and from threatened sequestrations by the crown.[9]
Two of Pigott's manuscripts, A Treatise of Common Recoveries, their Nature and Use and New Precedents in Conveyancing, were published after his death.[10] These texts remained standard authorities for the remainder of the eighteenth century.[11]
Evidence for Inclusion in Wythe's Library
There is no doubt that George Wythe owned this title—a copy of the second (1742) edition at the Library of Congress includes Wythe's bookplate and manuscript notes which may have been made by him.[12] Thomas Jefferson listed "Pigott's conveyancing. fol." in his inventory of Wythe's Library, noting that he kept the volume himself. He later sold it to the Library of Congress. Not surprisingly, all four of the Wythe Collection sources (Goodwin's pamphlet[13], Dean's Memo[14], Brown's Bibliography[15] and George Wythe's Library[16] on LibraryThing) list the second edition of New Precedents in Conveyancing. The Wolf Law Library purchased a copy of the same edition.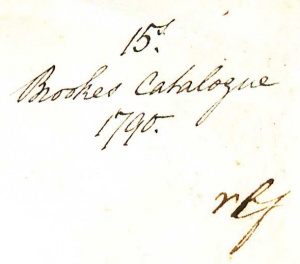 Description of the Wolf Law Library's copy
Bound in contemporary calf with blind rules to boards, raised bands and lettering piece to spine. Includes armorial bookplate of John Clarke Stoughton, Wymondham, Norfolk on front pastedown and an early owner annotation, "15s Brookes Catalogue 1790", and the intials "rlf" on front free endpaper. Purchased from The Lawbook Exchange, Ltd.
Images of the library's copy of this book are available on Flickr. View the record for this book in William & Mary's online catalog.
Full text
See also
References
External links