The Nature and Practice of Real Actions
From Wythepedia: The George Wythe Encyclopedia
by George Booth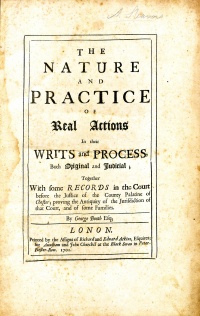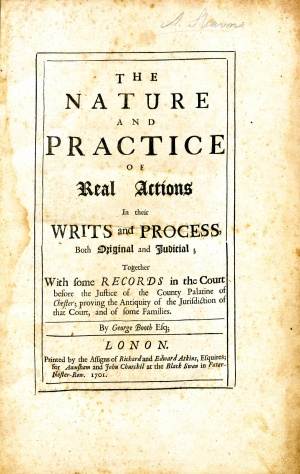 Holdsworth relied on this treatise while working on his own account of the actions. He described it as "a comprehensive straightforward statement of a difficult branch of the law." [1]t
Bibliographic Information
Author: George Booth
Title: The Nature and Practice of Real Actions: In Their Writs and Process, Both Original and Judicial, Together with Some Records in the Court Before the Justice of the County Palatine of Chester, proving the Antiquity of the Jurisdiction of That Court and of Some Families.
Published: London: Printed by the assigns of Richard and Edward Atkins, Esquires, for Awnsham and John Churchil, 1701.
Edition:
Evidence for Inclusion in Wythe's Library
Description of the Wolf Law Library's copy
Bound in modern quarter calf with gilt. Said to be Beaumont Hotham's copy, with two substantive notations on his own rulings. Purchased from Meyer Boswell Books, Inc.
View this book in William & Mary's online catalog.
References
↑

Holdsworth