The Nature and Practice of Real Actions
From Wythepedia: The George Wythe Encyclopedia
The Nature and Practice of Real Actions: In Their Writs and Process, Both Original and Judicial, Together with Some Records in the Court Before the Justice of the County Palatine of Chester, proving the Antiquity of the Jurisdiction of That Court and of Some Families
by George Booth
The Nature and Practice of Real Actions

Title page from The Nature and Practice of Real Actions, George Wythe Collection, Wolf Law Library, College of William & Mary.

Author
George Booth
Editor
{{{editor}}}
Translator
{{{trans}}}
Published
London: Printed by the assigns of Richard and Edward Atkins, Esquires, for Awnsham and John Churchil
Date
1701
Edition
First
Language
English
Volumes
{{{set}}} volume set
Pages
[4], 297, [25]
Desc.
Folio (32 cm.)
Location
[[Shelf {{{shelf}}}]]
 
[[Shelf {{{shelf2}}}]]

The Nature and Practice of Real Actions, written by George Booth, was first published in 1701. The work is a "comprehensive straightforward statement of a difficult branch of the law" containing writs and pleadings on the subject of real actions.[1] In addition, "the large mass of learning on the subject of these actions, to be found in the Year Book and later cases, is set out accurately and succinctly."[2] The Nature and Practice of Real Actions was one of the first books to give information regarding the procedures for these actions. The book laid out the various rules governing pleadings and helped make these rules public knowledge.[3] While some historians have found the book "invaluable"[4] others have described it as "an imperfect and unsatisfactory book" while admitting "for want of a better treatise upon the subject, [it] 'is even cited as an authoritative compiliation.'[5]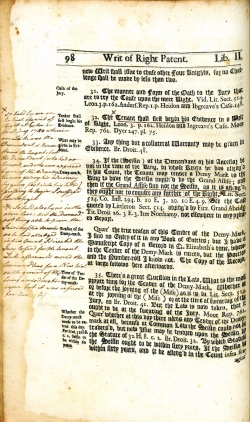 Evidence for Inclusion in Wythe's Library
The Brown Bibliography[6] suggests Wythe owned this title based on quotations in the manuscript version of John Marshall's law notes. Brown lists the first edition (1701) because Thomas Jefferson sold a copy of the first edition to the Library of Congress in 1815.[7] The Wolf Law Library purchased a copy of the same edition.
Description of the Wolf Law Library's copy
Bound in modern quarter calf with gilt. Said to be Beaumont Hotham's copy, with two substantive notations on his own rulings. Purchased from Meyer Boswell Books, Inc.
View this book in William & Mary's online catalog.
References