Moses Hazen to John Hancock, referred to Wythe & Committee, 18 February 1776
From Wythepedia: The George Wythe Encyclopedia
Page 1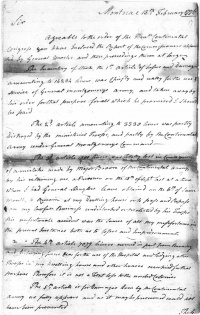 Montreal 18th, February 1776
Sir
    Agreeable to the order of the Honb. Continental Congress you have Inclosed the Report of the Commissions Appointed by General Woosler and these proceedings thereon at large.
    The Inventory of Stocks, the 1st Article of Losses and Damage amounting to 14234 livers was Chiefly and [really?] for the use & service of General Montgomery's Army, and taken away by his order for that purpose for all which he promised & should be paid.
    The 2d. Article amounting to 3330 livers was partly Distrayed by the ministerial Troops, and partly by the Continental Army under General Montgomery's Command.
    The 3 article 300 livers was Totally lost in Consequence of a mistake made by Major Brown of the Continental Army, by his retaining me. a Prisoner on the 18th of Sept. last at a time when I had General Schuylers leave obtained on the 6th of Same month, to remain at my Dwelling house or to pass and Repass on my lawful Business undisturbed or molested by his Troops, this unfortunate accident was the Source of all my misfortunes in the present Instance both as to losses and Imprisonment.
    The 4th Article 7079 livers occurred in part from Burning and distroying fences &ca: for the use of the Hospital and lodging other troops in my Dwelling house and other houses occupied for that purpose Therefore it is not a total loss to the united Colonies.
    The 5th article is for Damages done by Continental Army as fully appears and as it may be presumed could not have been prevented.
         These

Page 2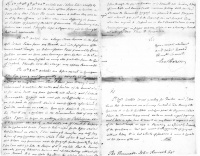 Th 6th, 7th, 8th, 9th, 10th, & 11th. Articles was I believe taken chiefly by the Canadians, and it was the price of their Labour or Services, and I am Sorry that I have Too much reason to believe they were in it by their officers, at a time when I was Suffering in prison on Suspicion of favouring the cause of America the plundering in this Instance was cruel, I therefore hope a recompence will be thought just and reasonable.
    The 12th Article was a large Stone house in the Fort of St. Johns. Taken from my Tenants, and into possession of the ministerial Troops, an Indemnification I was promised by Gov. Carleton as well as some other Damages done by them in the 2d and all which I have now forfeited as every other protection from the Government of England. I therefore hope this charge may appear Reasonable.
    The 13th & 14th Articles are losses occurred in Consequence of the foregoing and Consequently are thought as Reasonably a Charge as any other. Thus I have gone through and endeavoured to explain the nature and Justice of the Several charges as afar as in haste my poor capacity will admit, and I hope the Honourable Congress will enact with no Difficulty in ordering me to be amounts which is now so clearly apportioned by credible evidences on oath. You will please to Remember Sir, That it was a condition in the memorandum State of my affair which I gave in to you in writing, when at Philadelphia which if remember was nearly these words, viz If I should be Imployed in the Continental Service I must be Indemnified for the losses which I had Sustained on which, I was willing to Sacrifise my half pay Defence of my country's cause, which I shall adhere to and would not wish to have any provision made by Congress for the Security of my half I say I am willing to take the Resque of it to myself, But the Damage will only put my Interest on the same and a proper fooling without which I am Ruined. It is my sole Dependence for a future subsistence that I live through the present I live through the present Troubles or if I should not Survive, & pay off some Debts and leave a small provision for my little family, whatever the Honourable Congress are pleased to allow I beg you will order it to be paid to the Bearer of this Mr. Joseph Torrey who has agreed to Refund me in hard Specie whatever he may Receive from you in paper money, which is an advantage I would not willingly lose. I have the Honour to be
                        Sir
                        Your most obedient and most devoted humble Servant
                        Moses Hazen

P.S.
    St. Col. Antill sent word yesterday for Quebec and I shall leave this tomorrow on a Journey. Extend to take through the Country in order to facilitate and Compleat the Regiment which I have the Honour for Command, we have mad a good beginning and I hope in a few days to have it in my Power to acquaint you of the Desined Success. As well in Reruting as a friendly Disposition of the conditions – But you msut hold a Committee of Congress without Delay, It is but a Party of pleasure to Comand at this season of the year
                        M.H.

The Honorable John Hancock Esq.

Page 3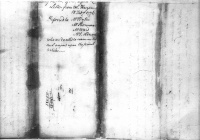 Letter from Col. Hazen
    18 Feby 1776
Referred to Mr. Wythe
    Mr. Sherman
    Mr. Ward
    Mr. Adams
Who are directed to examine the account and report upon the several articles.