Modern Geography: A Description of the Empires, Kingdoms, States, and Colonies with the Oceans, Seas, and Isles; in All Parts of the World: Including the Most Recent Discoveries, and Political Alterations, Digested on a New Plan
From Wythepedia: The George Wythe Encyclopedia
by John Pinkerton
Modern Geography

Title page from Modern Geography, volume one, George Wythe Collection, Wolf Law Library, College of William & Mary.

Author
John Pinkerton
Editor
{{{editor}}}
Translator
{{{trans}}}
Published
Philadelphia: Published by John Conrad & Co. ...
Date
1804
Edition
{{{edition}}}
Language
English
Volumes
2 volume set
Pages
{{{pages}}}
Desc.
8vo (23 cm.)
Location
[[Shelf {{{shelf}}}]]
 
[[Shelf {{{shelf2}}}]]

John Pinkerton's three-volume Modern Geography detailed global geography as known in the early nineteenth century. Pinkerton included Europe, Asia, the Americas, and Africa as the four major continental groups within the work, and he detailed specific countries within each continental group. For each country that Pinkerton detailed at length, he included information about four different geographical aspects of the country: historical or progressive geography, political geography, civil geography, and natural geography. [1]


Modern Geography was first published in 1802 and became "instantly popular." High sales of the book led to second and third editions of the work, while abridged versions of Modern Geography went through multiple editions as well. [2] Eventually, the book was adapted and translated into French and Italian. [3] Reviews were almost unanimously favorable to Modern Geography. The book was hailed by different reviewers as "a standard of excellence in animated description" and "a monument undoubtedly of singular industry, of extensive knowledge, and of discriminating judgment." [4]


Pinkerton's motivation for writing Modern Geography was to be profitable, as he noticed that current "geography books in use left room for a new and better work." [5] To prove the benefits of writing a new publication on geography, Pinkerton wrote a proposal for publishers titled "Ideas on a New System of Geography." In the proposal, Pinkerton attacked the widely used geographical works of author William Guthrie for poor arrangement, factual errors, and failure to cite authorities, aiming to prove to publishers that a new work would be both necessary and profitable. Pinkerton subsequently detailed his own plans on organization and content in the proposal, and his "hasty and imperfect sketch" would later be realized in the published volumes of Modern Geography. [6]


John Pinkerton was a Scottish author, historian, and poet who first gained prominence for compiling collections of Scottish poetry. After his first publication in 1781, Pinkerton gained notoriety as a literary imposter for inserting parts of his own work into the poems of antiquity. However, Pinkerton publicly redeemed himself through his 1786 publication Ancient Scotish Poems, which contained previously unpublished Scottish poetry and included a confession of his earlier deception. Pinkerton later authored works involving geography, history, numismatics, and theater. Despite his literary successes, Pinkerton remained controversial for his unorthodox views on religion and morality. Pinkerton also received criticism for his tumultuous private life, which included a series of failed relationships and marriages. Such controversy kept Pinkerton from advancing his social standing and wealth, and he left London for Paris in 1815. Pinkerton spent the rest of his life in Paris, where illness prevented him from continuing to publish. Pinkerton passed away in 1826. [7]


Evidence for Inclusion in Wythe's Library
Listed in the Jefferson Inventory of Wythe's Library as Pinkerton's geography. 2.v. 8vo. This was one of the titles kept by Thomas Jefferson. In 1815, Jefferson sold a copy of John Pinkerton's Modern Geography to the Library of Congress. Both the Brown Bibliography[8] and George Wythe's Library[9] on LibraryThing include the 1804 edition of Pinkerton's work based on Millicent Sowerby's entry in Catalogue of the Library of Thomas Jefferson.[10] While the Jefferson volumes no longer exist to conclusively verify the edition or Wythe's prior ownership, the Wolf Law Library's George Wythe Collection includes the edition recommended by Sowerby.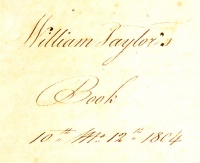 Description of the Wolf Law Library's copy
Mixed, incomplete set (lacks atlas volume). Volume one bound in contemporary calf. Spine features gilt bands and red morocco, gilt-lettered label and volume number. Includes inscription, "William Taylor's Book 10th Mo 12th 1804" on front free endpaper. Volume two bound in contemporary calf with gilt-ruled spine and red morocco, gilt-lettered label. Gilt volume number. Includes signature "W. Lewis" on front pastedown and title page. Inscription on front free endpaper partially missing. Remnant is "January 26th 1826."
View the record for this book in William & Mary's online catalog.
References