Love v. Braxton
From Wythepedia: The George Wythe Encyclopedia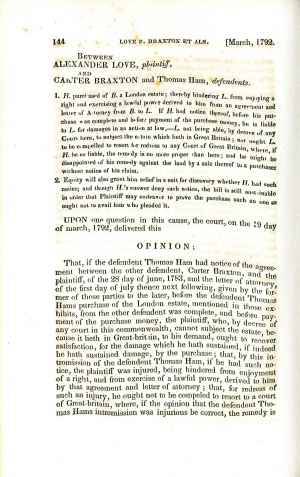 Love v. Braxton, Wythe 144 (1792),[1] subsequent history at 9 Va. (5 Call) 537 (1805),[2] discussed whether a Virginia court could hear a dispute over the purchase of land in Great Britain.
Background
Alexander Love had an agreement to buy a London estate from Carter Braxton, but before he could complete the purchase, Thomas Ham purchased it instead. Love claimed that Ham had notice of Love's agreement with Braxton and sued for damages. All parties presumably resided in Virginia, although the case does not state where they were domiciled.
The Court's Decision
The High Court of Chancery said that it could not force Ham to give the estate to Love since it was in Great Britain, but Love should not be forced to resort to British courts to get compensation for his injuries. The Court ruled that Love should be allowed to proceed with his case, and if he proves that Ham had notice of Love and Braxton's agreement before Ham completed his purchase, then Ham should compensate Love accordingly.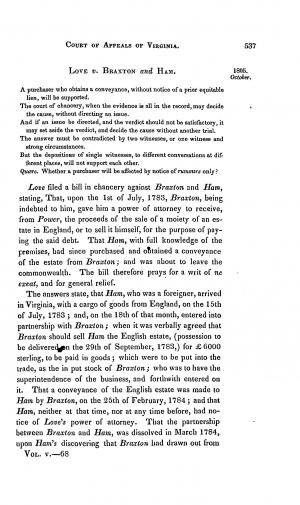 Subsequent history
After Wythe's ruling, the case went to a jury. Wythe set aside the first jury verdict in Braxton's favor as indecisive and ordered a new jury trial. The second jury ruled for Love; Wythe set aside the second verdict and dismissed the case on the merits after Braxton filed an affidavit from a witness stating that the second verdict was actually averaged out among the different opinions of the twelve jurors.[3]
Love appealed to the Supreme Court of Appeals, which upheld Wythe's decision. Judges Fleming and Carrington said that because there was no conflict among the witnesses or in the evidence, Wythe was free to set aside the jury's verdict if he was dissatisfied with it.[4] Judge Roane dissented, stating that some testimony contradicted other testimony, and that Wythe should therefore have deferred to the jury's verdict.[5]
References