Difference between revisions of "Lord Stirling to John Hancock, referred to Wythe & Committee, 2 February 1776"
From Wythepedia: The George Wythe Encyclopedia
m

 

Line 40:
Line 40:
 

[[Category:Letters to Wythe]]

 

[[Category:Letters to Wythe]]

 

[[Category:Letters and Papers]]

 

[[Category:Letters and Papers]]

−

[[Category:PROOFED]]

 
---
Latest revision as of 17:06, 10 March 2018
William Alexander, an American Brigadier-General during the American Revolutionary War also known as Lord Stirling, writes to John Hancock informing him that he has not received any orders from Congress nor further information about what is to be done with the captured cargo ship that Hancock had asked about in previous letters. Stirling tells Hancock that he has enclosed a copy of the orders he gave to Captain Rogers whom Stirling left in charge of the captured cargo ship. He also mentions including the orders to Colonel Maxwell about Maxwell preparing his regiment to march to Albany, New York along with Maxwell's answer.
Letter text
Page 1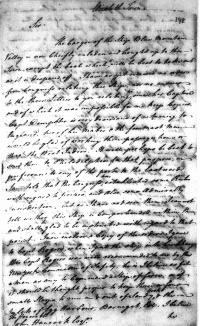 Elizabeth Towne
Sir
    The Cargoe of the Ship Blue Mountain Valley is now Cheifly unladen and brought up to this Town, except the Coal which it will be best to take out as it is disposed of. I have as yet received no orders from Congress relating this Ship, nor no answer to the three Letters to you relating her, since her Capture and of which it was impossible for me keep Copies. Capt. Dempster is very desirous of returning to England, two of his Mates & the foremast Men would be glad of working their passage home or thro' the West Indies. It will perhaps be best to send them to Philadelphia for that purpose, in preference to any of the ports to the Eastward. I am told that the Congress has established some Rules with regard to prizes, and also some Admiralty Jurisdiction, but as I have not seen them, I cannot tell whether this Ship is Comprehended within them, and shall be glad to be instructed with regard to that point. I now enclose a Copy of the orders I gave to Capt. Rogers, when I put the ship into his Charge. This Capt. Rogers was well recommended to me by the New York Committee of Safety, he is I believe as fit a Man as any to Command a Ship of force; or if it should be thought proper to keep three or four small Sloops to run in & out of Sandy Hook & the Inlets of Egg Harbour, Barnegat, &c, I believe he
The Honorable
John Hancock Esq.

Page 2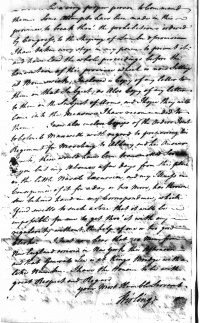 would be a very proper person to Command them. Some Attempts have been made in this province, to break thro' the prohibitions ordered by Congress, to the Shipping of Lumber & provisions. I have taken every step in my power to prevent it; and have laid the whole proceedings before the Convention of this province which is now Sitting at Brunswick; Inclosed is Copy of my letter to them on that Subject; as Also Copy of my letter to them on the Subject of Arms, and I hope they will Come into the Measure I have recommended to them. I now also enclose Copies of the Orders I sent to Colonel Maxwell with regard to preparing his Regiment for Marching to Albany and his Answer thereto, these would have been transmitted Soon to you but my Absence a few days from this place on the little Naval Excursion, and my Illness in Consequence of it for a day or two More, has thrown me behind Land in my Correspondence, which I find swells to such a Size that it will be impossible for me to get thro' it with any regularity without the help of one or two good Clerks. I just now hear that you Men, from New England arrived in New York this Afternoon and that General Lee is at Kings Bridge with a like Number. I have the Honour to be with great Respect and Regard
                   Your Most Humble Servant
                             Stirling

Page 3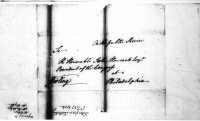 On the Public Service
To
    The Honorable John Hancock Esqr.
    President of the Congress
                                      at
                                       Philadelphia
Stirling


[endorsed]
Letter from Lord of Stirling
2d Feby 1776.


Referred to
    Mr. Chase
    Mr. Rutledge
    Mr. Wythe