Difference between revisions of "Lee v. Braxton"
From Wythepedia: The George Wythe Encyclopedia
m

 

Line 10:
Line 10:
 
 
 

==See also==

 

==See also==

−

*''[[Braxton v. Lee's Heirs]]''

+

*''[[Braxton v. Lee's ]]''

 

*[[Wythe's Judicial Career]]

 

*[[Wythe's Judicial Career]]

 
 
---
Latest revision as of 16:06, 2 January 2020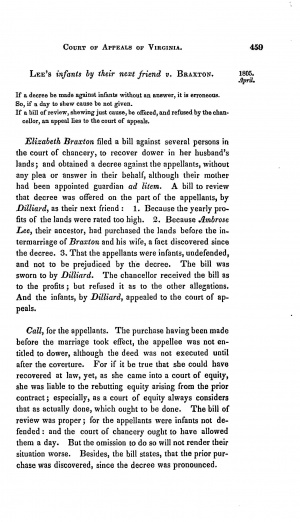 Lee v. Braxton, 9 Va. (5 Call) 459 (1805),[1] discussed whether decrees against children could later be challenged by the child when it had come of age.
Background
Elizabeth Braxton sued several people in the High Court Chancery to recover dower in her husband's lands. Among the named defendants were the Lee children, who inherited the disputed land when their ancestor purchased it prior to Elizabeth's marriage. The court appointed the mother of the children as the guardian ad litem and to represent them in the case. However, the children's mother failed to answer or argue on the children's behalf. As a result, the Lee children automatically lost their land to Elizabeth and were ordered to pay Elizabeth a reported amount of money for the yearly profits gained on the land. Dillard, an adult friend of the children, filed a bill of review to argue the children's case. The bill claimed that the children were undefended in the first hearing, the land was purchased belonged to the children's ancestor, Ambrose Lee, and the reported yearly profits were rated too high.
The Court's Decision
On March 21, 1803, Chancellor Wythe "after considering the said bill and hearing counsel on both sides", rejected to hear additional evidence and found in favor of Elizabeth. On April 17, 1805, the Court of Appeals reversed the decision and found that the case should have proceeded. After George Wythe's death, the case returned to the Superior Court of Chancery on September 20, 1806. Chancellor Creed Taylor found in favor of the plaintiffs after hearing the additional facts of the case. To this decision, the Court of Appeals reversed in part and affirmed in part.
See also
References
↑ Daniel Call, Reports of Cases Argued and Decided in the Court of Appeals of Virginia, (Richmond: R. I. Smith, 1833), 5:459.