The Law of Devises, Revocations, and Last Wills
From Wythepedia: The George Wythe Encyclopedia
The Law of Devises, Revocations, and Last Wills, to Which is Added, Choice Precedents of Wills
by Sir Geoffrey Gilbert
The Law of Devises, Revocations, and Last Wills

Title page from The Law of Devises, Revocations, and Last Wills, George Wythe Collection, Wolf Law Library, College of William & Mary.

Author
Sir Geoffrey Gilbert
Editor
{{{editor}}}
Translator
{{{trans}}}
Published
In the Savoy: Printed by H. Lintot, for T. Waller
Date
1756
Edition
First
Language
English
Volumes
{{{set}}} volume set
Pages
viii, [11], 254, [38]
Desc.
8vo (21 cm.)
Location
[[Shelf {{{shelf}}}]]
 
[[Shelf {{{shelf2}}}]]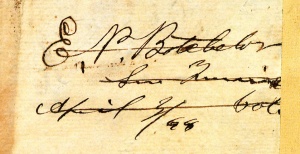 Sir Geoffrey (sometimes Jeffray or Jeffrey) Gilbert
(1674–1726) was a British attorney, judge, and legal scholar. Not much is known about Gilbert's early life, but based on his later works it is clear that he received a classical education as a child.
[1]
He was admitted to the Inner Temple in 1692 and called to the bar in 1698. Gilbert was not a particularly well-known lawyer early in his career, but in 1715 he was appointed a puisne judge of the Court of King's Bench in Ireland.
[2]
Soon after he was given that position, the Chief Baron of the Irish Exchequer died unexpectedly. No other judges were prepared to take his place so the position was given to Gilbert.
[3]

Gilbert's defining moment came in the case of Annesley v. Sherlock which turned on the issue of whether appeals from equity jurisdictions in Ireland should be handled by the Irish or by the British House of Lords.[4] Gilbert followed the orders of the British Lords in preference to those of the Irish, which led to the Irish Lords ordering his arrest.[5] Following Gilbert's display of British loyalty, he was rewarded with the post of puisne baron of the English exchequer.[6] He was later appointed to the commission for the English Great Seal and knighted.[7] Shortly before Gilbert's death he was elected a fellow of the Royal Society.[8]

Despite the influence he wielded during his lifetime, Gilbert's major contributions to law came posthumously. After his death a large collection of manuscripts was found covering almost the entirety of English law and practice.[9] These works were gradually published in the decades following Gilbert's death, and they remained influential for decades after their publication. Some legal historians have called Gilbert probably the most eminent author who ever sat on the Irish Bench.[10] Among these treatises, The Law of Devises, Revocations, and Last Will, published in 1757, is a compilation of the various laws governing wills. As one author describes it "[i]n this book the whole law of this subject is considered, with many references to the best authorities ..."[11]
Evidence for Inclusion in Wythe's Library
Listed in the Jefferson Inventory of Wythe's Library as "Law of Devises 8vo." and given by Thomas Jefferson to Dabney Carr. The Brown Bibliography[12] includes the first edition while George Wythe's Library[13] on LibraryThing indicates "Precise edition unknown. Octavo editions were published at London in 1756 and 1773." The Wolf Law Library purchased a copy of the first edition

Description of the Wolf Law Library's copy
Bound in full brown leather binding with five raised bands on the spine and blind tooling to boards. Previous owner's names on front pastedown, front free endpaper, and title page have been struck through. Purchased from Black Swan Books, Inc.

View this book in William & Mary's online catalog.
References