An Inquiry into the Principles of Political Oeconomy: Being an Essay on the Science of Domestic Policy in Free Nations
From Wythepedia: The George Wythe Encyclopedia
by Sir James Steuart
An Inquiry into the Principles of Political Oeconomy

Title page from An Inquiry into the Principles of Political Oeconomy, volume two, George Wythe Collection, Wolf Law Library, College of William & Mary.

Author
Sir James Steuart
Editor
{{{editor}}}
Translator
{{{trans}}}
Published
London: Printed for A. Millar and T. Cadell, in the Strand
Date
1767
Edition
First
Language
English
Volumes
2 volume set
Pages
{{{pages}}}
Desc.
4to (29 cm.)
Location
Shelf C-4
 
[[Shelf {{{shelf2}}}]]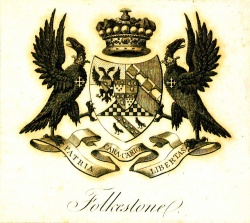 Sir James Steuart (1713-1780) was a noted Scottish economist who made exceptional contributions to economic theory. Steuart was considered a pioneer of early economics, and was the first author to use the term "political economy" in the title of a book.[1] In An Inquiry into the Principles of Political Economy he explains the term as:
[just as] economy in general [is] the art of providing for all the wants of a family, [so the science of political economy] seeks to secure a certain fund of subsistence for all the inhabitants, to obviate every circumstance which may render it precarious; to provide everything necessary for supplying the wants of the society, and to employ the inhabitants ... in such manner as naturally to create reciprocal relations and dependencies between them, so as to supply one another with reciprocal wants.[2]
Steuart wrote from the point of view of a moderate mercantilist. At the time it was published, An Inquiry into the Principles of Political Economy was considered to be the most complete and systematic survey of political economy ever written in England. Some even considered it to be one of the first full-fledged economics treatises to appear anywhere.[3]
Evidence for Inclusion in Wythe's Library
Ordered by Wythe from John Norton & Sons in a letter dated May 15, 1768, "a treatise concerning money-matters, (I think the title is "Of civil oeconomy" written by sir James Stewart ...." Records indicate the order was fulfilled.[4] All four of the Wythe Collection sources (Goodwin's pamphlet[5], Dean's Memo[6], Brown's Bibliography[7] and George Wythe's Library[8] on LibraryThing) list the first (1767) edition as the one owned by Wythe. The title is not listed in Jefferson's inventory of Wythe's Library. The Wolf Law Library purchased a copy of the first edition.
Description of the Wolf Law Library's copy
Bound in contemporary tree calf, rebacked, preserving original gilt spines. Front pastedown includes the armorial bookplate of Folkestone with the Latin motto "Patria cara, carior Libertas" (My country is dear, but liberty is dearer.) Purchased from Donald A. Heald Rare Books.
Images of the library's copy of this book are available on Flickr. View the record for this book in William & Mary's online catalog.
See also
References
External Links
Read volume one of this book in Google Books.
Read volume two of this book in Google Books.