The Idylliums of Theocritus
From Wythepedia: The George Wythe Encyclopedia
by Theocritus
The Idylliums of Theocritus

Title page from The Idylliums of Theocritus, George Wythe Collection, Wolf Law Library, College of William & Mary.

Author
Theocritus
Editor
Francis Fawkes and Samuel Johnson
Translator
Francis Fawkes
Published
London: Printed for the author by D. Leach and sold by J. and R. Tonson
Date
1767
Edition
{{{edition}}}
Language
English
Volumes
{{{set}}} volume set
Pages
lvi, [12], 288
Desc.
8vo (21 cm.)
Location
Shelf I-4
 
[[Shelf {{{shelf2}}}]]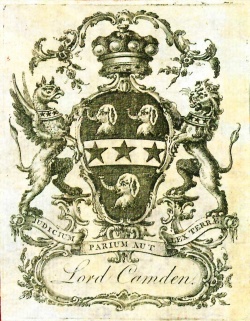 Theocritus was a Hellenistic Greek poet who lived in the first half of the third century BCE in Syracuse on the island of Sicily.[1] It is possible that Theocritus lived in south Italy for part of his life, and that he visited Alexandria, Egypt during the reign of Ptolemy II Philadelphus.[2] Several of Theocritus' poems are set in Alexandria and directly reference Ptolemy's palace and life under his rule, specifically poems 15 and 17.[3]
Theocritus invented the genre of pastoral or bucolic poetry that focused on artfully simplistic depictions of herdsmen singing of "themselves, their loves and quarrels."[4] Due to the relatively limited subject matter, bucolic poetry became used for allegorical comments on society and politics around the time of Virgil.[5] Theocritus' extant works include thirty poems, several fragments of poems, and twenty-four epigrams, though the authenticity of all of them is doubtful.[6]
The Idylliums of Theocritus was translated from the original Ancient Greek to English by the English reverend Francis Fawkes in 1767.[7] Fawkes' translation is notable for being extensively annotated, but not just by himself; he received "the particular help of ten contemporary men of letters" as indicated in his preface.[8] Dr. Samuel Johnson is considered a major contributor, and he is often included in the by-line. Fawkes refers to Johnson specifically in the preface for his editing and annotating contributions.[9] The first portion of the book includes an explanation of Theocritus's life and pastoral poetry, followed by his thirty poems and twenty-two of his twenty-four epigrams.
Evidence for Inclusion in Wythe's Library
Ordered by Wythe from John Norton & Sons in a letter dated May 15, 1768. Records indicate the order was fulfilled.[10] Also listed in the Jefferson Inventory of Wythe's Library as "Fawke's Theocritus. 8vo." and kept by Thomas Jefferson He later sold a copy of the same title to the Library of Congress in 1815, but it no longer exists to verify Wythe's prior ownership.[11]Both the Brown Bibliography[12] and George Wythe's Library[13] on LibraryThing, include the 1767 edition of The Idylliums of Theocritus translated by Francis Fawkes. The Wolf Law Library concurred with their identification and purchased a copy of this volume.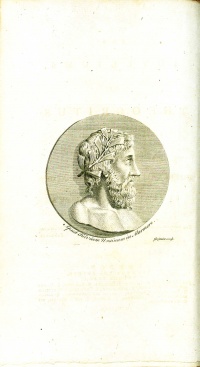 Description of the Wolf Law Library's copy
Bound in contemporary tree calf with gilt border on boards. Spine features six raised bands and gilt floral motifs to compartments. Red morocco label has gilt lettering. The front pastedown includes the armorial bookplate of Charles Pratt, 1st Earl Camden, an English lawyer and judge who held the offices of Chief Justice of the Common Pleas, Attorney-General and Lord Chancellor. The bookplate's Latin motto "Judicum parium aut lex terrae" translates as "The judgment of my peers or the law of the land."
Images of the library's copy of this book are available on Flickr. View the record for this book in William & Mary's online catalog.
See also
References
External Links
Read this book from the Hathi Trust.