The History of the Rebellion and Civil Wars in England
From Wythepedia: The George Wythe Encyclopedia
The History of the Rebellion and Civil Wars in England, Begun in the Year 1641: With the Precedent Passages, and Actions, That Contributed Thereunto, and the Happy End, and Conclusion Thereof by the King's Blessed Restoration, and Return, upon the 29th of May, in the year 1660
by Edward Hyde, Earl of Clarendon
The History of the Rebellion and Civil Wars in England

Title page from The History of the Rebellion and Civil Wars in England, volume two, George Wythe Collection, Wolf Law Library, College of William & Mary.

Author
Edward Hyde, Earl of Clarendon
Editor
{{{editor}}}
Translator
{{{trans}}}
Published
London: Oxford: Printed at the Theater
Date
1707
Edition
{{{edition}}}
Language
English
Volumes
3 volume set
Pages
{{{pages}}}
Desc.
Folio (38 cm.)
Location
[[Shelf {{{shelf}}}]]
 
[[Shelf {{{shelf2}}}]]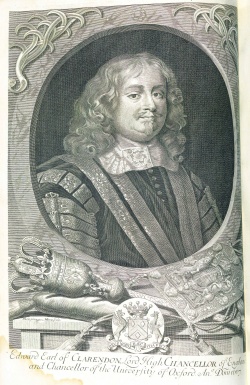 Edward Hyde, first Earl of Clarendon
(1609–1674), gained admission to the
Middle Temple
in 1626 and was called to the bar in November of 1633.
[1]
After spending some time in Parliament, he was made
Chancellor of the Exchequer
in 1643. In part because of this position and in part because of his close relationship with and support of the current royalty, Hyde had considerable firsthand experience to draw upon when writing his
History on the Civil War in England
. He took an active part in supporting the church and the Crown throughout the war and following unrest, although his combat was political in nature. Eventually, after several rises and falls in favor with various political figures, Hyde was exiled to France, where he died in 1674.
[2]

The History of the Rebellion and Civil Wars in England strongly supports a monarchy founded on law, with both church and constitution as a necessary aspect of sound government.[3] Hyde had high hopes for the reception of his book, and interspersed the history with his own autobiography.[4] It received high praise when first published, but did not become popular, due in part to a copyright limited to Oxford, and in part to the complicated legal prose that proved too difficult for some.[5] Years later, Hyde's history became recognized as containing style and sophistication that was unparalleled in its time.[6]
Evidence for Inclusion in Wythe's Library
Listed in the Jefferson Inventory of Wythe's Library as Clarendon's history. 3.v. fol. and given by Thomas Jefferson to his son-in-law, Thomas Mann Randolph. Later appears on Randolph's 1832 estate inventory as "'Clarendon's History of England' (3 vols., $9.00 value)." We do not have enough information to conclusively identify which edition Wythe owned. George Wythe's Library[7] on LibraryThing indicates this, adding "Several editions of this work in folio were published, the first at Oxford in 1707." The Brown Bibliography[8] lists the 1707 Oxford edition, and this was the edition purchased by the Wolf Law Library.
Description of the Wolf Law Library's copy
Rebacked in sturdy brown leather with seven raised bands and title, author, etc in gilt. Purchased from Powell's Bookstores.

View this book in William & Mary's online catalog.
References
External Links
Read volume 1, part 1 in Google Books.
Read volume 1, part 2 in Google Books.