The History and Proceedings of the House of Commons from the Restoration to the Present Time
From Wythepedia: The George Wythe Encyclopedia
The History and Proceedings of the House of Commons from the Restoration to the Present Time Containing the Most Remarkable Motions, Speeches, Resolves, Reports And Conferences to be Met With in That Interval
by Richard Chandler
The History and Proceedings of the House of Commons

Title page from The History and Proceedings of the House of Commons from the Restoration to the Present Time, volume one, George Wythe Collection, Wolf Law Library, College of William & Mary.

Author
Richard Chandler
Editor
{{{editor}}}
Translator
{{{trans}}}
Published
London: Printed for Richard Chandler
Date
1742-1744
Edition
First
Language
English
Volumes
14 volume set
Pages
{{{pages}}}
Desc.
8vo (20 cm.)
Location
[[Shelf {{{shelf}}}]]
 
[[Shelf {{{shelf2}}}]]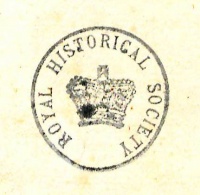 The History and Proceedings of the House of Commons from the Restoration to the Present Time
contains, "the most remarkable motions, speeches, resolves, reports and conferences to be met within that interval."
[1]
Richard Chandler's (ca. 1713-1744) fourteen-volume work addresses the most significant political and historical happenings within the House of Commons between the years 1660 and 1743. Between speeches from the throne, parliamentary proceedings, and analyses of issues such as the national debt and expenses of war, this work provides one of the most significant compilations of historical and political proceedings in the 17th and 18th centuries.
[2]
The History and Proceedings of the House of Commons
is complete with notes from and about significant lawmakers and other figures of the time, and includes a detailed appendix.

Originally printed by Richard Chandler in 1742, The History and Proceedings of the House of Commons from the Restoration to the Present Time was thought to be an "ambitious project" which Chandler set about completing entirely on his own. The 1742 printing was the first of two which, despite being supported by the prince of Wales, suffered vast financial losses, "Chandler's greatest achievement [proved to be] his downfall." The ambitious bookseller and entrepreneur took his own life as these financial problems began to bear down on him.[3]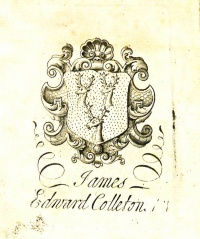 Evidence for Inclusion in Wythe's Library
Listed in the Jefferson Inventory of Wythe's Library as [Debates] in the H. of Commons. 13.v. 8vo. and given by Thomas Jefferson to his son-in-law, Thomas Mann Randolph. It later appeared on Randolph's 1832 estate inventory as "'Debates of Parliament' (19 vols., $20.50 value)." Both Brown's Bibliography[4] and George Wythe's Library[5] on LibraryThing include the first edition (1742-1744) of The History and Proceedings of the House of Commons. The Wolf Law Library purchased the same edition.
Description of the Wolf Law Library's copy
Bound in full leather calf with original boards. Contains maroon leather label and gilt lettering on spine and purple stamp of the Royal Historical Society on the title pages and front pastedowns. Volumes one through five and nine through fourteen include the armorial bookplate of James Edward Colleton on the title page verso. Volume thirteen signed "Rich Chandler" on title page verso. Purchased from Ziern-Hanon Galleries.

View this book in William & Mary's online catalog.
References