Hippocratis Aphorismi
From Wythepedia: The George Wythe Encyclopedia
Hippokratous Aphorismoi = Hippocratis Aphorismi: Hippocratis et Celsi Locis Parallelis Illustrati
by Hippocrates
Hippocratis Aphorismi

Title page from Hippocratis Aphorismi, George Wythe Collection, Wolf Law Library, College of William & Mary.

Author
Hippocrates
Editor
{{{editor}}}
Translator
Lucas Verhoofd
Published
Parisiis: Apud Theophilium Barrois Juniorem
Date
1784
Edition
{{{edition}}}
Language
Greek and Latin on opposite pages
Volumes
{{{set}}} volume set
Pages
xx, 353
Desc.
12mo. (13 cm.)
Location
[[Shelf {{{shelf}}}]]
 
[[Shelf {{{shelf2}}}]]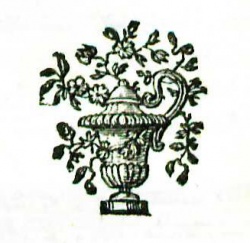 The physician Hippocrates of Cos lived sometime between 450 BCE to 380 BCE and is traditionally regarded as the father of medicine.
[1]
"The writings of the
Corpus Hippocraticum
provide a wealth of information on biomedical methodology and offer one of the first reflective codes of professional ethics."
[2]
The writings were most likely composed by multiple men; even the "Hippocratic Oath" is believed to be the work of someone other than Hippocrates.
[3]
Both Plato and Aristotle specifically mention Hippocrates in their own works and he was regarded as "a great physician who exercised a permanent influence on the development of medicine and on the ideals and ethics of the physician."
[4]
Regarding the
Corpus Hippocraticum
, "[o]n the biomedical methodology side, these writings provide the most detailed biomedical observations to date in the Western world. They also offer causal speculations that can be knitted together to form a theoretical framework for diagnosis and treatment. On the ethical side, their code of professional ethics is so well structured that it continues to stand as a model for other professions."
[5]
Within the Corpus Hippocraticum, the Aphorismi, is "a collection of 412 short counsels regarding diagnosis, prognosis, and treatment."[6] The term "aphorism" was first used in connection with the work of Hippocrates.[7]
Evidence for Inclusion in Wythe's Library
Listed on the Jefferson Inventory as Hippocratis Aphorismata. p.f. and given by Thomas Jefferson to his son-in-law Thomas Mann Randolph. Later appears on Randolph's 1832 estate inventory as "'Aphorisms of Hypocrates' ($3.75 value)." We cannot determine the precise edition Wythe owned from the information available. Brown's Bibliography[8] lists a 1736 octavo edition published in Edinburgh. George Wythe's Library[9] on LibraryThing includes no specific edition and indicates "Probably a portion of the work only. Precise edition unknown." The 12-centimeter, 1784 edition chosen by the Wolf Law Library is a good potential candidate as it corresponds to Jefferson's indicated size of "p.f." (petit folio).
Description of the Wolf Law Library's copy
Bound in red morocco, covers with three gilt rules around the sides, edges and turn-ins gilt. Spine has triple rules dividing the panels which are decorated in gilt and a black gilt label.

View this book in William & Mary's online catalog.
References
External Links
Read this book in Google Books.