Green v. Price
From Wythepedia: The George Wythe Encyclopedia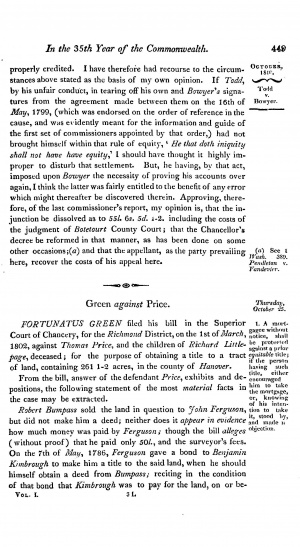 Green v. Price, 15 Va. (1 Munf.) 449 (1810),[1] was a land dispute case.
Background
On March 1, 1802, Fortunatus Green sued Thomas Price and the children of Richard Littlepage for the title of a tract of land.
The Court's Decision
On June 3, 1803, Chancellor Wythe signed an injunction to stay the selling of the property until further Court order. Then in September 1804, the Chancellor dismissed the case. The Court of Appeals affirmed.
See also
References
↑ William Munford, Reports of Cases Argued and Determined in the Supreme Court of Appeals of Virginia, (New York: I. Riley, 1812), 1:449.