A Grammar Of The Greek Language
From Wythepedia: The George Wythe Encyclopedia
A Grammar of the Greek Language: Originally Composed for the College-School, at Gloucester, in Which it has been the Editor's Design to Reject What, in the Most Improved Edition Of Cambden, is Redundant, to Supply What is Deficient, to Reduce to Order What is Intricate and Confused, and to Consign to an Appendix What is not Requisite to be Got by Heart
A Grammar of the Greek Language

Title page from A Grammar of the Greek Language, George Wythe Collection, Wolf Law Library, College of William & Mary.

Author
William Camden
Editor
John Snelling Popkin
Translator
{{{trans}}}
Published
Boston: by I. Thomas and E.T. Andrews
Date
1800
Edition
First American from Third London
Language
English
Volumes
{{{set}}} volume set
Pages
2 p.l., 123 (i.e. 223), [1]
Desc.
8vo (19 cm.)
Location
[[Shelf {{{shelf}}}]]
 
[[Shelf {{{shelf2}}}]]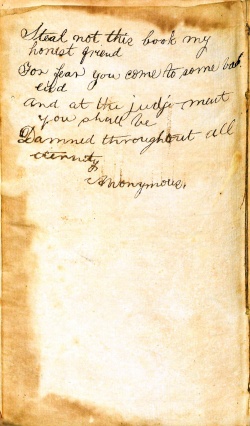 William Camden
(1551-1623) was an English author and historian whose finest work was his production of the first topographical survey of England, titled
Britannia
and published in 1595. After receiving his education, Camden was appointed second master of
Westminster School
, and eventually headmaster.
[1]
In 1597 Camden was appointed
Clarenceux king-of-arms
and was relieved of schoolmaster's chores and given more time for writing.
[2]

After beginning work on Britannia in 1577, Camden spent almost all of his free time traveling England to collect material for the book.[3] Britannia was a county-by-county description of Great Britain and Ireland. It was particularly influential because of the depth in which it described the various parts of England, including information on landscape, geography, antiquarianism, and history.[4] In 1615 Camden published a history of Queen Elizabeth's reign.[5]

Britannia was by far Camden's most influential piece of writing, but in 1595 he published a Greek grammar textbook, Grammar of the Greek Language, which was used extensively in secondary schools. Grammar, as well as his historical account of Queen Elizabeth, also proved to be very influential during his lifetime and beyond.[6]
Evidence for Inclusion in Wythe's Library
Listed in the Jefferson Inventory of Wythe's Library as Greek grammar of Gloucester. 8vo. and kept by Thomas Jefferson. Jefferson later sold the same title to the Library of Congress in 1815, but the volume no longer exists to verify the edition or Wythe's prior ownership.[7] Both the Brown Bibliography[8] and George Wythe's Library[9] on LibraryThing list the Boston first American edition (1800) of William Camden's A Grammar of the Greek Language based on E. Millicent Sowerby's entry in Catalogue of the Library of Thomas Jefferson. The Wolf Law Library purchased a copy of the same edition.
Description of the Wolf Law Library's copy
Bound in contemporary full leather. Includes multiple signatures: "Charles T. Hildretch, Six Mile Road, 1812" on the front free endpaper, "George Hall" on the title page, "John Hrasen, 1812," "William Magee," and "Samuel Smith" on the rear flyleaf. Also has the stamp of "The Grove, Morden Aylesford, Nova Scotia." on the front free endpaper. The verso of the rear free endpaper features the manuscript poem:
Steal not this book my honest friend


For fear you come to some bad end
And at the judgement you shall be
Damned throughout all eternity


    Anonymous.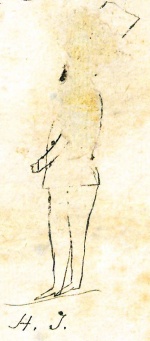 The rear pastedown revises the poem with the lines "Steal not this book my honest friend for fear this gallows will be your end." and a drawing of a man in a top hat with the initials "H. J." below. Purchased from David M. Lesser.

View this book in William & Mary's online catalog.
References