A General Abridgment of Law and Equity: Alphabetically Digested Under Proper Titles with Notes and References to the Whole
From Wythepedia: The George Wythe Encyclopedia
by Charles Viner
Viner's Abridgment

Title page from A General Abridgment of Law and Equity, volume three, George Wythe Collection, Wolf Law Library, College of William & Mary.

Author
Charles Viner
Editor
{{{editor}}}
Translator
{{{trans}}}
Published
Aldershot: Printed for the Author, by Agreement with the Law-Patentees
Date
1741-1753
Edition
First
Language
English
Volumes
23 volume set
Pages
{{{pages}}}
Desc.
Folio (34 cm.)
Location
Shelf J-5
 
Shelf K-5
Charles Viner (bap.1678 d.1756) studied at Hart Hall, Oxford, but never completed his studies.[1] He gained admission to the Middle Temple in 1700.[2] Although never called to bar, Viner kept chambers at the King's Bench Walk, Temple where he gave occasional legal advice. [3] In his free time he enjoyed researching the literature of the law, and his Abridgment began as more of a hobby than a source of income. Viner based his work on Rolle's Abridgment, but thought of it as more of a supplement to the uncompleted D'Anvers's Abridgement.[4] Thus, he started his work where D'Anvers left off: at the letter "F." .[5]

Viner's work took over half a century, resulting in twenty-three volumes.[6] Not only were the words his own, but he personally directed the manufacture of the paper that went into each volume.[7] Realizing the deficiencies in existing abridgements, he decided to complete the rest of the alphabet after finishing "F" through "Z."[8] Unsurprisingly, his independence angered established publishers and booksellers alike. [9]

Viner's work was monumental, but a bit disorganized.[10] Completed in 1753, its twenty-three volumes contained a nearly complete composition of the legal materials available at the time.[11] But, with each volume containing approximately 550 pages, the material could be difficult to find.[12] It was not until 1758 that Robert Kelham's index provided the key to finding material quickly and accurately,[13] the index became so important that the second edition of Viner's Abridgment included it as a twenty-fourth volume.
Viner's final legacy, aside from his comprehensive work, came from his generosity to the University of Oxford.[14] Upon his death in 1756 he donated almost his entire estate to support the study of the common law. [15] It was his intention that others build upon the subject of his life's work.[16] The first to hold the endowed Vinerian professorship was Sir William Blackstone.[17]

Viner's Abridgment is considered the most expansive common law work created by a single person.[18] Treatment of his work has varied in the 250 years since its creation. According to Chief Justice Story, "[i]t is a cumbersome compilation, by no means accurate or complete in its citations, and difficult to use." [19] Others are more favorable: "When a question of Evidence. . . arises, fail not to search the. . . last edition of Viner's Abridgment"[20] Regardless of these opinions, it was an influential work cited by courts long after the author's death.[21]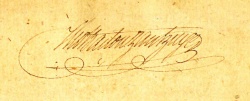 Evidence for Inclusion in Wythe's Library
Wythe definitely owned the first (1741-1753) edition of Viner's Abridgment—a copy at the Library of Congress includes his bookplate in each volume.[22] It is also listed in the Jefferson Inventory of Wythe's Library as "Viner's abr. F. to Y. inclus. 10.v. fol." under "[Commo]n law" in the section of books kept by Thomas Jefferson. Two of the Wythe Collection sources (Brown's Bibliography[23] and George Wythe's Library[24] on LibraryThing) include the first edition "Viner's Abridgment." The Wolf Law Library moved a copy of the same edition from another rare book collection to the George Wythe Collection.
Description of the Wolf Law Library's copy
Rebound in period style with red title labels and black volume labels. Most volumes include a previous owner's signature on the front flyleaf and title page. Most are also stamped "Camden Co. Bar Assn." on the title page. Purchased through the generosity of Daniel W. Baran and Lena Stratton Baran, Class of 1936. Set includes Robert Kelham's An Alphabetical Index to All the Abridgments of Law and Equity: and to Several Books of the Crown law, Conveyancing, and Practice, with Their Divisions and Subdivisions; Chiefly Calculated to Facilitate the References to the General Abridgment of Law and Equity, by Charles Viner, Esq (London, In the Savoy: Printed by Henry Lintot ... for the author, and sold by J. Worrall, 1758).

Images of the library's copy of this book are available on Flickr. View the record for this book in William & Mary's online catalog.
See also
References
External Links
Read volume eleven of this book in Google Books.