Essays of Michael Seigneur de Montaigne
From Wythepedia: The George Wythe Encyclopedia
by Michel de Montaigne
Essays of Michael Seigneur de Montaigne

Title page from Essays of Michael Seigneur de Montaigne, volume two, George Wythe Collection, Wolf Law Library, College of William & Mary.

Author
Michel de Montaigne
Editor
{{{editor}}}
Translator
Charles Cotton
Published
London: Daniel Brown [etc.]
Date
1711
Edition
Fourth
Language
English
Volumes
3 volume set
Pages
{{{pages}}}
Desc.
8vo (20 cm.)
Location
Shelf L-4
 
[[Shelf {{{shelf2}}}]]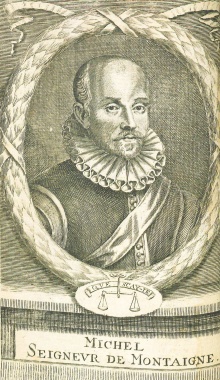 Michel de Montaigne
(1533-1592) was an influential philosopher and essayist with revolutionary values derivative of humanism, skepticism, relativism, and empirical knowledge.
[1]
He came from a wealthy family of recent nobility, and was educated in the classics and Latin before he was sent to school at the age of six. Montaigne worked as a lawyer, including positions as a counselor of the Court des Aides of Périgueux and counselor of the Parlement in Bordeaux. He retired from public life in 1571. Despite his retirement, Montaigne remained active in the political sphere, where he advocated following custom and ancient societal laws.
[2]

In 1580, Montaigne published his famous Essays, with two more books published in 1588 and 1595. In them he sets forth humanist ideas about the importance of asserting "natural judgment," recognizing humans as fallible and connected to the physical world, and the empirical nature of knowledge. One of his most famous essays, "On Cannibals," compares the behavior of European colonialists to the "savages" of Brazil.[3] Other essays customs in the context of the horrors of war where he argues that laws can be evil or unjust, but one should follow ancient laws that order society.[4] The Essays are pervaded by Montaigne's skepticism, learned from reading the Stoics, which "insist[s] that it is the self that is in constant flux and in need of a stable political environment."[5] He lived by a strict morality and believed that one must act in a way he believes is just while living in an uncertain world.
Evidence for Inclusion in Wythe's Library
Listed in the Jefferson Inventory of Wythe's Library as Montaigne. Eng. 2.v. 8vo. and given by Thomas Jefferson to his son-in-law, Thomas Mann Randolph. We do not have enough information to conclusively identify which edition Wythe owned. George Wythe's Library[6] on LibraryThing indicates this without choosing a specific edition. The Brown Bibliography[7] lists the 1759 edition published in London but notes that "which English edition Wythe owned is undetermined." Because we do not know which edition Wythe owned, the Wolf Law Library purchased the fourth edition, published in London in 1711 when a copy became available.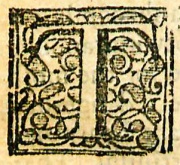 Description of the Wolf Law Library's copy
Bound in 3/4 mottled calf leather with marbled boards by Joseph Zaehnsdorf, top edge gilt. Contains gilt extras and lettering pieces to the spine. Includes marbled flyleaves and pastedowns. Copy features marginal notes and quotations. Purchased from Hirschfeld Galleries.
See also
References
External Links
Read volume one in Google Books.
Read volume two in Google Books.
Read volume three in Google Books.