Epicteti Manuale et Sententiae
From Wythepedia: The George Wythe Encyclopedia
Epicteti Manuale et Sententiae: Quibus Accedunt Tabula Cebetis, & Alia Affinis Argumenti, in Linguam Latinam Conversa A Marco Meibomio: Subjiciuntur Ejusdem Notae, Emendationes Claudii Salmasii in Epictetum, Notae Illorum & Alius Viri Docti in Dissertationes Epicteti ab Arriano Digestas, & Varians Scriptura Codicum Manu Exaratorum
by Epictetus
Epicteti Manuale et Sententiae

Title page from Epicteti Manuale et Sententiae, George Wythe Collection, Wolf Law Library, College of William & Mary.

Author
Epictetus
Editor
{{{editor}}}
Translator
{{{trans}}}
Published
Trajecti Batavorum (Utrecht): Ex officina Guilielmi Broedelet
Date
1711
Edition
{{{edition}}}
Language
Greek and Latin on opposite pages
Volumes
{{{set}}} volume set
Pages
[20], 151 [1], 124, 152, [59]
Desc.
4to (21 cm.)
Location
[[Shelf {{{shelf}}}]]
 
[[Shelf {{{shelf2}}}]]
Epictetus(55–135) was an ancient Greek Stoic philosopher. Spending his early years as a slave in Rome, Epictetus developed a philosophy of acceptance of fate. He believed that many people were dissatisfied with the world because they attempted to dominate aspects of life they had no ability to control.[1] "The things in our control are by nature free, unrestrained, unhindered; but those not in our control are weak, slavish, restrained, belonging to others. Remember, then, that if you suppose that things which are slavish by nature are also free, and that what belongs to others is your own, that you will be hindered. You will lament, you will be disturbed, and you will fault both gods and men."[2] This text is written in both Latin and Greek and may have been used as a teaching device for young students of those languages.

Evidence for Inclusion in Wythe's Library
Thomas Jefferson listed Epicteti Manuel Gt. Lat. 4to. in his inventory of Wythe's Library, noting that he kept the volume himself. He later sold it to the Library of Congress but the copy no longer exists.[3] Brown's Bibliography[4] includes the 1711 edition as mentioned in Sowerby's Catalogue of the Library of Thomas Jefferson while George Wythe's Library[5] on LibraryThing indicates "precise edition unknown." The Wolf Law Library purchased the 1711 edition as suggested by Brown.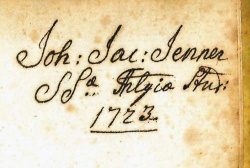 Description of the Wolf Law Library's copy
Bound in contemporary full vellum. Previous owner's inscription, "Joh. Jac. Jenner, ... 1723," on front free endpaper.
View this book in William and Mary's online catalog.
References
External Links
Read this book in Google Books.