The English Works of Sir Henry Spelman
From Wythepedia: The George Wythe Encyclopedia
The English Works of Sir Henry Spelman, Kt. Publish'd in His Life-Time; Together with His Posthumous Works, Relating to the Laws and Antiquities of England; First Publish'd by the Present Lord Bishop of Lincoln, in the Year 1695, Together with the Life of the Author, Now Revised by His Lordship. to Which are Added, Two More Treatises of Sir Henry Spelman, Never Before Printed: One, of the Admiral-Jurisdiction, and the Officers Thereof: the Other, of Antient Deeds and Charters, with a Compleat Index to the Whole
by Sir Henry Spelman
English Works of Sir Henry Spelman

Title page from English Works of Sir Henry Spelman, George Wythe Collection, Wolf Law Library, College of William & Mary.

Author
Sir Henry Spelman
Editor
Edmund Gibson
Translator
{{{trans}}}
Published
London: Printed for D. Browne, sen. & jun. W. Mears, F. Clay [etc.]
Date
1723
Edition
{{{edition}}}
Language
English
Volumes
2 parts in 1 volume set
Pages
{{{pages}}}
Desc.
Folio (34 cm.)
Location
[[Shelf {{{shelf}}}]]
 
[[Shelf {{{shelf2}}}]]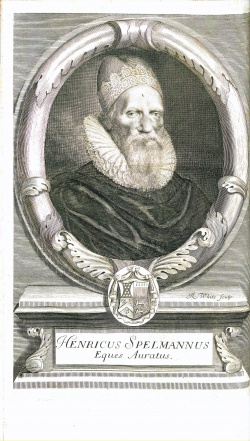 Sir Henry Spelman (1563/4–1641) studied at Walsigner grammar school and graduated BA from Trinity College, Cambridge in 1583.[1] He was admitted to Lincoln's Inn in 1586, where he studied the law for three years. Spelman found drudgery in many aspects of the law, and focused on history and antiquity.[2] He married his wife Eleanor in 1590 and soon after began writing treatises.

Spelman wrote treatises on many topics.[3] As time passed, his work gained recognition, especially with regard to his ability to present not only the mere facts, but to connect seemingly unrelated facts in a meaningful and persuasive manner.[4] He is recognized as having laid a foundation upon which subsequent scholars were able to build.[5]
Evidence for Inclusion in Wythe's Library
Wythe referred to Spelman's works in his case report for Field v. Harrison, "Sir H. Spelman somewhere condemns the common lawyers of his own time, for the small acquaintance they had with the principles and rationale of their profession."[6] Brown's Bibliography[7] includes the first (1723) edition of The English Works of Sir Henry Spelman as the work intended by Wythe's reference. He bases the selection of this title and edition in part on the copy Thomas Jefferson sold to the Library of Congress in 1815.[8] The Wolf Law Library followed Brown's suggestion and purchased a copy of the same edition.
Description of the Wolf Law Library's copy
Bound in contemporary decorative leather binding. Spine has six bands with gilt decoration and lettering. Purchased from Longland Books.

View this book in William & Mary's online catalog.
References
External Links
Read this book in Google Books.