The Dramatick Works of John Dryden, Esq.
From Wythepedia: The George Wythe Encyclopedia
by John Dryden
John Dryden (1631 – 1700) was an influential and innovative poet, critic, playwright, and translator.[1] Dryden began his career as a poet, influenced by his love of Greek and Roman poetry, and later established his profession in theater. Dryden stopped writing plays for the stage with the outbreak of the plague in London in 1665, but continued to write other types of work. His works show his belief in divine providence, and his interest in fanciful adaptations of classic works, including those of Shakespeare and Milton, and political satire supporting King Charles II.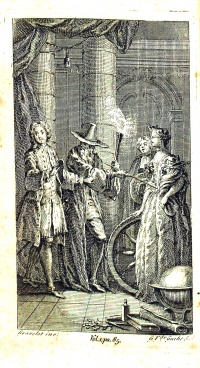 In the 1660s-70s, Dryden's work became dominated by the heroic drama and critical essays. He fiercely praised the use of "dramatick" rhyme and language in his plays.[2] In 1680 he contracted with a bookseller, a turning point in his career when he began translating Greek and Roman classics.[3]
In 1685, Dryden converted to Catholicism, and his works evolved from his modern and secular tone to become dominated by religious devotion.[4] Dryden published his three-year project translating all the works of Virgil in 1697 while suffering from brain cancer.
Evidence for Inclusion in Wythe's Library
Listed in the Jefferson Inventory of Wythe's Library as "Dryden's works. 6.v. 12mo." and given by Thomas Jefferson to his granddaughters, Ann and Ellen Randolph. The precise edition of the set owned by Wythe is unknown. George Wythe's Library[5] on LibraryThing indicates as much, adding "Six-volume editions in duodecimo were published at London in 1717, 1725, 1735, and 1762-63." The Brown Bibliography[6] lists the 1762-1763 edition based on the copy Jefferson sold to the Library of Congress.[7] The Wolf Law Library followed Brown's suggestion and purchased a copy of the 1762-1763 edition.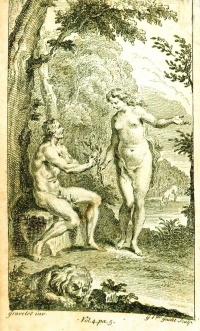 Description of the Wolf Law Library's copy
Bound in half brown calf with marbled boards and endpapers, spines have raised bands with 2 dark brown labels lettered in gilt. Gilt decoration on the remainder of the spine and all edges gilt. Purchased from Gibson Galleries.
Images of the library's copy of this book are available on Flickr. View the record for this book in William & Mary's online catalog.
See also
References