Decisions of Cases in Virginia by the High Court of Chancery
From Wythepedia: The George Wythe Encyclopedia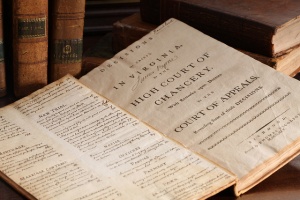 by George Wythe
Bibliographic Information
Author: George Wythe
Title: Decisions of Cases in Virginia by the High Court of Chancery: with Remarks upon Decrees by the Court of Appeals, Reversing Some of Those Decisions.
Publication Information: Richmond: Printed by Thomas Nicolson, 1795.
Edition: First
Evidence for Inclusion in Wythe's Library
As author, Wythe would have owned his own case reports. Additionally, the title is listed in the Jefferson Inventory as Wythe's Chancery decisions. fol. & 8vo. Jefferson kept both titles (this volume and an octavo version of subsequent case reports). The University of Virginia owns a copy which includes a handwritten note on the front flyleaf: "Memorandum. This copy of Wythe's Reports, was the Chancellor's own copy, and is annotated in his own peculiar handwriting, and with quotations illustrative of the text from Greek authors. After leaving the bench, Judge Wythe presented this book to Thomas Jefferson; it was subsequently owned by George Wythe Randolph, R.G.H. Kean (Rector of the Board of Visitors of the University of Virginia), and Jefferson Randolph Kean. Given to the University of Virginia Law School by J.R. Kean in 1925, in memory of his father, R.G.H. Kean."[1] The volume also includes Wythe's manuscript notes throughout the volume. There are also a few marginal notes in the copy of Wythe's Reports that Jefferson sold to the Library of Congress. That volume may also have been Wythe's originally.
Description of the Wolf Law Library's Copy
The Wolf Law Library owns Daniel Call's copy of Wythe's Case Reports.
View this book in William & Mary's online catalog.
References