A Critical Pronouncing Dictionary, and Expositor of the English Language
From Wythepedia: The George Wythe Encyclopedia
by John Walker
A Critical Pronouncing Dictionary, and Expositor of the English Language

Title page from A Critical Pronouncing Dictionary, and Expositor of the English Language, George Wythe Collection, Wolf Law Library, College of William & Mary.

Author
John Walker
Editor
{{{editor}}}
Translator
{{{trans}}}
Published
Philadelphia: Printed by Budd and Bartram for H. & P. Rice
Date
1803
Edition
First American
Language
English
Volumes
{{{set}}} volume set
Pages
cxxxi, [1], [990]
Desc.
8vo (22 cm.)
Location
Shelf L-4
 
[[Shelf {{{shelf2}}}]]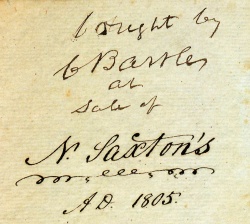 A Critical Pronouncing Dictionary, and Expositor of the English Language
is dictionary authored by
John Walker
, a British elocutionist and lexicographer. Born in 1732, Walker worked as an actor with various theatre companies in England and Ireland before leaving acting in 1768.
[1]
After opening a school in Kensington in 1769, Walker began teaching elocution to young men who were studying for the bar.
[2]
A leader in the mechanical school of elocution, Walker taught his pupils detailed rules about voice production and developed a theory of voice inflection to explain how a voice's pitch can go up or down within a single syllable.
[3]

Walker published several works, including Exercises for Improvement in Elocution in 1777 and The Melody of Speaking in 1787.[4] Walker's most influential work was his Critical Pronouncing Dictionary, which was originally published in 1791 in Britain and in the United States for the first time in 1803.[5] In his Critical Pronouncing Dictionary, which has been reprinted over 100 times since its publication, Walker sets out 545 rules for the correct pronunciation of words in the English language, including rules for people with Irish or Scottish accents to follow in order to produce more "cultured" accents.[6] Walker's work became one of the foremost authorities on English linguistics, and his system of using marks and numbers to indicate stressed syllables has remained influential in modern linguistics.[7]
Evidence for Inclusion in Wythe's Library
Listed in the Jefferson Inventory of Wythe's Library as "Walker's dictionary. 8vo." This was one of the titles kept by Thomas Jefferson and later sold to the Library of Congress in 1815. Both George Wythe's Library[8] on LibraryThing and the Brown Bibliography[9] list the first American edition published in Philadelphia in 1803. This is also the edition Millicent Sowerby's included in Catalogue of the Library of Thomas Jefferson,[10] however, Jefferson's copy no longer exists. The Wolf Law Library chose to add the edition suggested by Sowerby, Brown, and LibraryThing.
Description of the Wolf Law Library's copy
Bound in full brown leather binding with gilt lettering on the spine. includes notes of previous ownership "bought by G Bassler at sale of N. Saxton's A.D. 1805" on front pastedown. "N. Saxton's, A.D. 1805" also on rear pastedown. Purchased from Black Swan Books.
Images of the library's copy of this book are available on Flickr. View the record for this book in William & Mary's online catalog.
See also
References
External Links
Read this book in Google Books.