The Countrey Justice: Containing the Practice of the Justices of the Peace as well in and out of their Sessions
From Wythepedia: The George Wythe Encyclopedia
by Michael Dalton
The Countrey Justice

Title page from The Countrey Justice, George Wythe Collection, Wolf Law Library, College of William & Mary.

Author
Michael Dalton
Editor
{{{editor}}}
Translator
{{{trans}}}
Published
London: Printed by John Streater, James Flesher, and Henry Twyford, assigns of Richard Atkyns, and Edward Atkyns, esquires
Date
1666
Edition
Language
English
Volumes
{{{set}}} volume set
Pages
[14], 460 (i.e. 456), [10]
Desc.
Folio (28 cm.)
Location
Shelf L-5
 
[[Shelf {{{shelf2}}}]]
Michael Dalton (1564 – 1644) was a barrister and legal writer, a member of Lincoln's Inn, and a justice of the peace in the counties of Essex and, later, Cambridgeshire.[1] The Countrey Justice, a manual for justices of the peace and local magistrates, remains his best known work.[2]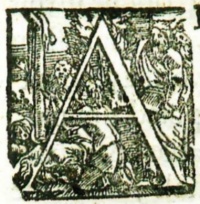 The office of justice of the peace originated during the Middle Ages, when their primary responsibility was to suppress riots and keep the peace.[3] By the sixteenth century, their power had increased and come to include various judicial and administrative tasks.[4] Most justices of the peace, however, had no legal training, and a number of justice of the peace manuals were published to provide guidance in the form of clear, comprehensive, and easy to understand instruction.[5]
The Countrey Justice was among the most popular manuals, and was published in at least twenty editions between 1618 and 1746.[6] It provided a summary of the current law on a diverse array of subjects, from robbery and murder, to cattle and sheep, and included a particularly detailed description of the proper procedure for prosecuting witches. One of the earliest manuals to be arranged in alphabetical order, Dalton's book was popular both in England and New England, where it provided a ready and accessible summary of the English common law for the new colonies.[7]
Evidence for Inclusion in Wythe's Library
In her 1975 Colonial Williamsburg memo, Barbara Dean lists Dalton's Countrey Justice as a book Wythe could have had in his collection, citing "Virginia Lawyers, 1680-1776: The Birth of an American Profession" (1967), which lists it as a common title in Colonial lawyers' libraries.[8] Wythe definitely did own a copy of Dalton's Officium Vicecomitum, which appears in the inventory of books Wythe willed to Thomas Jefferson in 1806 as "Dalton's sheriff. fol." The Brown Bibliography[9] lists the 1666 edition of Countrey Justice and notes that "Virginia statutes required that each county justice have a copy ... as a primary reference work." Since Wythe was a justice of the peace in Elizabeth City County, he must have owned one. Brown selected the 1666 edition based on the copy Jefferson sold to the Library of Congress in 1815,[10] but notes that which copy Wythe owned is unknown. The Wolf Law Library moved an existing copy of the 1666 edition to the George Wythe Collection.
Description of the Wolf Law Library's copy
Recent full blind calf, gold tooled edges; annotation [in Law French?] upside-down in brown/black ink on flyleaf.
Images of the library's copy of this book are available on Flickr. View the record for this book in William & Mary's online catalog.
Full text
See also
References