Cobs v. Mosby
From Wythepedia: The George Wythe Encyclopedia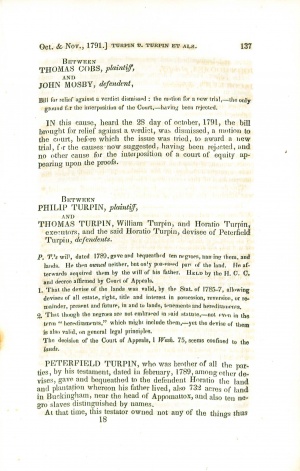 Cobs v. Mosby, Wythe 137 (1791),[1] was a very brief opinion dismissing a bill for relief.
Background
Cobs filed a bill for relief with the High Court of Chancery against a verdict in another court.
The Court's Decision
The Chancery Court dismissed Cobs's bill. The court which had handed down the verdict rejected a motion for a new trial, and that motion was the only basis for the Chancery Court's jurisdiction.
References
↑ George Wythe, Decisions of Cases in Virginia by the High Court of Chancery, 137 (Richmond: J.W. Randolph, 2d ed. 1852).